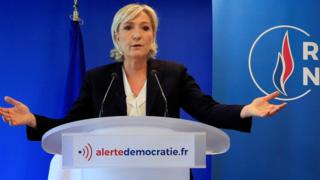 French far-right leader Marine Le Pen says her National Rally (RN) party is being "assassinated" by judges who blocked €2m (£1.7m) of public funding for it.
The RN – formerly the National Front (FN) – is accused of misusing €7m of European Parliament funds intended to pay MEPs' assistants in Brussels.
French prosecutors suspect that the RN used EU funds to pay staff in France.
Ms Le Pen and seven RN colleagues are members of the French parliament.
She was beaten by liberal newcomer Emmanuel Macron in the May 2017 presidential election, but later won a National Assembly seat, retaining her parliamentary immunity.
In a tweet (in French) on Monday Ms Le Pen said: "Two judges have decided, in violation of the presumption of innocence, without any court ruling, to assassinate France's leading opposition party."
In fact the RN is dwarfed by other parties in the French parliament: the centre-right, centre-left and socialist opposition parties all have more seats.
Ms Le Pen said seizing the RN's public subsidy "puts democracy at risk – it's also a matter for all the parties". French banks have previously refused to lend to her party.
French political parties receive public subsidies depending on their performance in elections.
The RN, stridently anti-EU and anti-immigration, denies running a fraudulent scheme to divert European Parliament cash. The scheme allegedly operated during the period 2009-2017.
In March Ms Le Pen got the party's approval to change its name to National Rally, part of a rebranding drive in which she has sought to cleanse it of the taint of racism.
Mr Macron's new La République en Marche (LREM) won a clear majority in parliament in the June 2017 election.
French parties are now preparing their campaigns for the 2019 European Parliament elections.
An opinion poll conducted by Ifop-Fiducial among 1,374 potential voters on 25-27 June gave LREM 23%, followed by RN on 19%, the centre-right Les Républicains (LR) on 15% and socialist La France Insoumise on 11%.