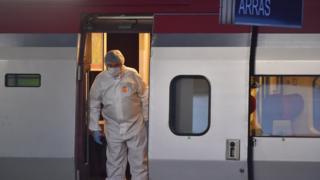 Ayoub El-Khazzani has already admitted his role in a 2015 attack plot aimed at targeting Americans on a train travelling from Amsterdam to Paris.
Now he has claimed he was too much of a "psychological wreck" to kill anyone, according to an account he gave to a judge that has been seen by French media.
The story of how the gunman was tackled by passengers as the train sped through northern France has already been made into a Clint Eastwood film.
Two passengers on board were wounded.
But the 21 August 2015 attack, three months before the Paris attacks in which 130 people died, could have been far worse.
Mr El-Khazzani, now 28, was carrying an array of weapons when he opened fire on the train near the town of Oignies. He was overpowered by several people, including three American friends who later appeared in the film The 15:17 to Paris.
His latest revelations about what happened on the train have emerged from questioning by an investigating judge in November last year. The respected France Inter news website has seen the file.
"Personally, I was unable to kill," the suspect is quoted as saying. "I had two weapons on me. Inside I was a psychological wreck, but at the last minute I just couldn't do it."
He describes heading straight for the Americans. "Then at one point one American, a tall man, stared at me. He was far away, I saw him head on and couldn't kill him," he is quoted as saying.
Mr El-Khazzani is also said to have told the judge that having seen what has happened in Syria since he has been in custody, he now regrets his failure to kill anyone.
The suspect, from Morocco, already told French judges in December 2016 how he had travelled from Syria to Belgium with jihadist Abdelhamid Abaaoud, a Belgian of Moroccan descent blamed for planning the Paris attacks and other plots.
His orders from Abaaoud were to target Americans on the Thalys train, according to a transcript of that hearing seen by Le Monde newspaper.
Mr El-Khazzani is still awaiting trial in France but he has denied in court that he intended to commit mass slaughter. His arsenal included a Kalashnikov assault rifle, a Luger pistol, 270 rounds of ammunition and a bolt cutter.