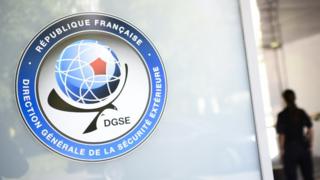 France has detained two former foreign intelligence agents on suspicion of spying for China, French media report.
The ex-DGSE agents are suspected of "extremely serious" treason on behalf of a foreign power, LCI news reports, quoting the French defence ministry.
Sources quoted by French media link them to China. French officials did not name the country concerned. One ex-agent's wife is also under suspicion.
The suspects were charged in December, but this has only now come to light.
Read more on France's DGSE spy service:
The French TV news magazine Quotidien says (in French) that France's domestic security agency, the DGSI, is questioning the retired DGSE suspects.
At least one of the suspects was working for the DGSE in Beijing when the alleged spying was discovered, the reports say.
The French government has given no details about the scope and focus of the alleged spying.