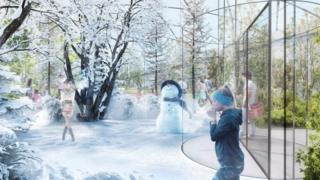 Everyone has a favourite season but if you visited Milan last month, you could have experienced all four in one place.
The brainchild of Italian architect Carlo Ratti, the garden used climate-control technology to allow visitors to experience spring, summer, autumn and winter at the same time.
The different seasons were represented in four undercover pavilions in a 500-sq-m space in Milan's main square, Piazza del Duomo.
The display was intended to raise awareness of the issue of climate change and make a statement about the need to make cities greener.
And, of course, in the age of the Internet of Things, the plants were connected to digital sensors that measured water, temperature, humidity and nutrients to make sure they remained as healthy as possible.
The plants were housed under a 5m-high crystal membrane that dynamically filtered the sun based on input from light-reactive sensors. Photovoltaic planes above the pavilion generated clean energy, providing the right amount to cool the winter area or heat the summer space.
"As climate change becomes more extreme, it is very important to experiment with modifying it," said Prof Ratti.
But also there is a need to bring the green back to our "grey concrete cities", he said.
Milan has experimented before with greening the city, with its famous skyscraper Bosca Verticale (vertical forest) now a landmark in the Porta Nuova district of the city.
Created by Italian architecture firm Boeri Studios back in 2014, it combines 20,000 plants and 900 trees with thousands of residents.
The architects have now been commissioned by the Chinese government to create the country's first green urban space – Liuzhou Forest City.
Work will start in 2020 to create offices, houses, hotels, hospitals and schools all covered in plants and trees. Once completed, the city – home to 30,000 people – will absorb almost 10,000 tonnes of CO2 and 57 tonnes of pollutants, while producing approximately 900 tonnes of oxygen.
To achieve this, it will use 40,000 trees and almost one million plants of more than 100 species.
Architect Stefano Boeri is also working on another idea to create a greener Milan. He is planning an urban reforestation project that aims to transform seven railway yards into a network of uninterrupted parks, gardens, woods, oasis and fruit gardens for communal use – linked together by green cycle paths.
And the firm has projects in Paris, several cities in the Netherlands, and Poland – where it is creating a vertical forest on social housing.
"This is not about buildings that host trees but about making it an essential part of the structure," said Mr Boeri.
"We have to consider that 75% of CO2 is produced by cities, and forests absorb between 30% to 35%, so we have no choice but to increase the number of trees inside our cities."
As more people move to live and work in urban environments, so the trend to make cities more "liveable" increases.
Relentless urbanisation means ever more crowded and polluted streets and not only do green spaces promote wellbeing – the innate sense of connection humans are said to have with nature is known as biophilia – but they can also play a very real role in improving air quality, insulating buildings and reducing the so-called urban heat island effect.
Studies suggest that green walls can reduce pollution by up to 30%, removing nitrogen dioxide and reduce the particles that cause lung damage.
Guerilla gardening
The Edible Bus Stop is a London-based design firm which has community gardening at its heart as it sets out to transform challenging spaces across the capital into pocket parks.
"It is absolutely vital for quality of life in cities that we have green space," said founder Mak Gilchrist.
"Even the smallest spaces can make neighbourhoods happier, it becomes a point of pride and when we garden we ask people to join us to engender a sense of ownership."
The first scheme, a garden on a neglected piece of land in Stockwell, is now managed entirely by local volunteers while a green bus station in Crystal Palace sells surplus herbs at the local farmers' market.
Cash-strapped cities are neglecting their parks – Bristol City Council has no budget for park maintenance this year – as well as losing vital community spaces such as libraries and pubs.
Gardens can provide a place for people to come together, thinks Agamemnon Otero, chief executive of Repowering London, a community organisation which is building solar gardens at overground stations around the capital.
The gardens will grow food and flowers, host bats, bees and birds and clean the air on the platforms, where particulate matter from trains is hazardous for humans to breathe.
London generates 13% of the UK's energy and 2% of that comes from Transport for London, making greener stations an important part of the Mayor's pledge to cut emissions.
Mr Otero thinks greener cities are essential.
"It feels like we are part of an urban movement – guerrilla gardening – that is about reclaiming our streets. Taking the urban grey and turning it into a space where the air is clean, the water is clean and the streets are safe."