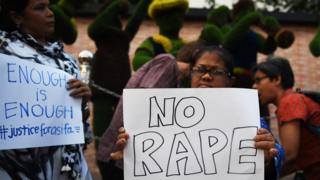 Police in the eastern Indian state of Bihar have arrested four men for allegedly molesting a woman and uploading a video of the incident on social media.
The video shows seven men attacking the woman on a public road in Jahanabad district.
Police told the BBC that a manhunt had been launched to arrest the three others.
They added that the case was registered after the video went viral.
The video shows the men groping and abusing the woman as she pleads with them to let her go. Onlookers can be seen filming the incident but they don't intervene to help her.
Inspector General of Police Naiyar Hasnain Khan told BBC Hindi's Manish Shandilya that it was unclear if the incident happened on Saturday or Sunday.
He added that the woman in the video was yet to be identified.
"We have registered a suo moto (without a formal complaint from any party) case and are trying to find the victim to get more details of the abuse she endured," he said.
He said people in the district had been advised not to share the video on social media.
Scrutiny of sexual violence in India has grown since the 2012 gang rape and murder of a student on a Delhi bus.
But violent sexual attacks against women and children continue to be reported across the country.