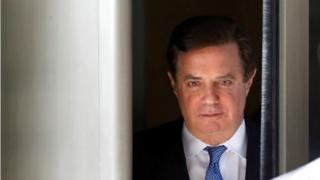 Robert Mueller, the US special counsel investigating alleged Russian election interference, has accused Donald Trump's former campaign manager of attempting to tamper with witnesses.
He said Paul Manafort, 69, had contacted witnesses by phone and encrypted messages, seeking to secure "materially false testimony".
Mr Manafort denies charges which include fraud.
His reaction to Mr Mueller's new allegations was not immediately known.
He faces two trials, the first of which is scheduled to begin in September.
A motion submitted by Mr Mueller said the allegations of witness tampering amounted to a violation of Mr Manafort's bail terms and he urged a judge in the case to review the conditions of his release.
That could result in Mr Manafort, who has been under house arrest since October, being jailed ahead of his trial.
---
More on this story
---
The motion alleges that Mr Manafort sent messages to two members of "The Hapsburg Group", a lobbying firm he worked with to promote the interests of Ukraine.
The communications were an "effort to influence their testimony and to otherwise conceal evidence", FBI Special Agent Brock Domin wrote in a declaration filed to court alongside Mr Mueller's motion.
Mr Trump has denied any collusion with Russia and called the special counsel investigation a "witch hunt".
The investigation, which began last year, has so far issued 22 indictments: 16 to Russian individuals and companies and the rest to Americans.
Among those indicted are several former Trump campaign and administration staff, including Mr Manafort; Michael Flynn, the president's former national security adviser; Rick Gates, the former Trump deputy campaign chair; and George Papadopoulos, a foreign policy adviser to the campaign.