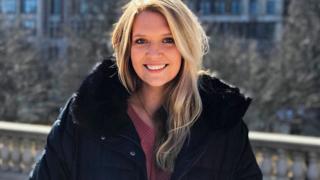 An Arizona woman is suing her ex-boyfriend and members of a university fraternity in Florida for sharing sexual content without her consent.
Kathryn Novak's lawsuit alleges sexual exploitation by Delta Sigma Phi members at the University of Central Florida.
The filing says images and videos of her and "many" other women were posted in a secret Facebook group they ran.
The national Delta Sigma Phi Facebook page said it had suspended its Orlando chapter immediately.
It called the allegations "disturbing and antithetical to our organization's values and mission".
The lawsuit, filed in Orlando, alleges that Ms Novak's ex-boyfriend, Brandon Simpson, shared intimate images and videos of her with other fraternity members without her permission, during their long-distance relationship from October 2017 to February 2018.
Speaking to the New York Times newspaper on Thursday, Mr Avenatti alleged that at least one sexual video had been recorded without his client's knowledge.
The court filing alleges that Mr Simpson and other members of the fraternity used a secret Facebook page called "Dog Pound" to circulate nude images and videos "of their girlfriends and other unwitting victims, including images depicting the young women engaged in private sexual activity".
In one alleged instance, a video where Ms Novak's face was identifiable was allegedly sent to five fraternity brothers and then viewed by as many as 200 people, the lawsuit alleges.
The filing names Mr Simpson, the Delta Sigma Phi University of Central Florida chapter, and four other members of the group as defendants.
US fraternities have been mired in controversy in recent years after being implicated in numerous campus sexual assaults, and deaths during harsh initiation ceremonies – so-called hazing – across the country.
A spokesman for the University of Central Florida said they were looking into the claims after the court filing, and said that the allegations were "contrary to our core values".
The lawsuit says Ms Novak seeks compensatory, statutory and punitive damages over the allegations.
Her lawyer, Michael Avenatti, said the ordeal had been "devastating" to Ms Novak.
"The fact that you had a basically frat-boy atmosphere, both literally and figuratively, that was centred on the exploitation of women without their knowledge or consent is outrageous," he told the New York Times.
The lawyer has gained prominence in recent months as he represents Stephanie Clifford, also known as adult film actress Stormy Daniels, in her legal battles with US President Donald Trump and his personal lawyer Michael Cohen.
Mr Avenatti is also representing adult film actress Stormy Daniels in a legal battle with President Donald Trump.