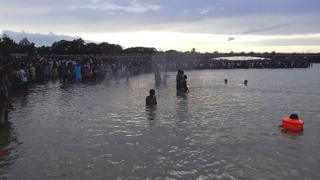 Five teenage students have drowned in a river in Bangladesh moments after playing a football match, police say.
The boys, from a school in the south-eastern Cox's Bazar district, went to bathe after a friendly game between supporters of Argentina and Brazil.
They were then swept away by the strong current of the Matamuhuri river.
Police recovered the bodies on Saturday evening, some six hours after the boys drowned. Tens of thousands of people attended their funeral on Sunday.
Local police chief Bakhtiar Uddin Chowdhury said that 22 schoolboys played a friendly football match on Saturday after dividing themselves between supporters of the two South American teams.
He said that, following the game, six boys went to the river. The area near the Matamuhuri Bridge where they had chosen to swim was "very deep", he added.
"We rescued a boy. Later five bodies were recovered. The dead included two brothers," he told AFP news agency.
The incident occurred at about 17:00 local time (11:00 GMT) on Saturday, according to reports.
Cricket is popular in Bangladesh but during the football World Cup the country is gripped by football fever. The teams of Brazil and Argentina are particularly popular among Bangladeshi fans.