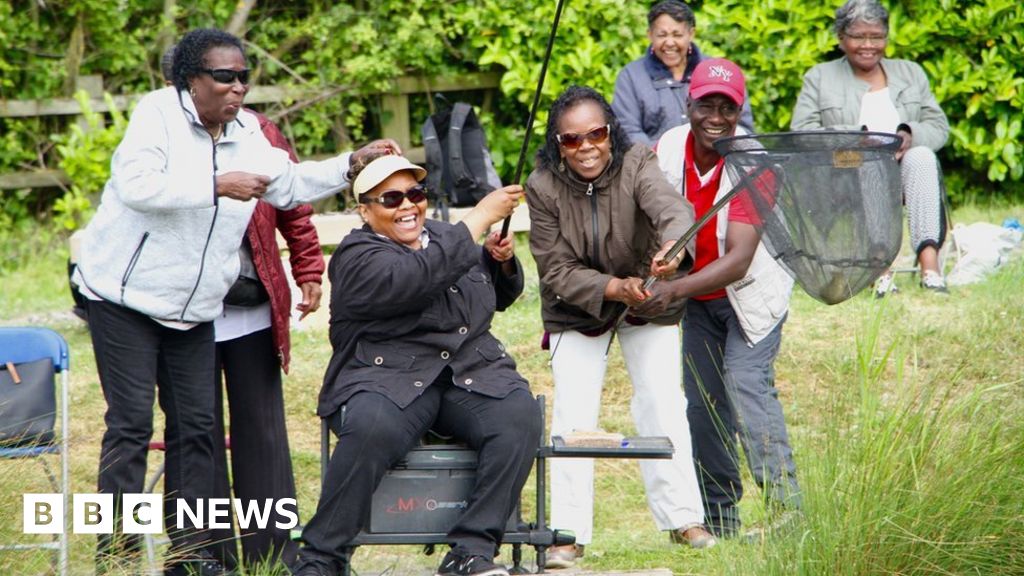 For these women, friendship is everything.
"Each one teach one," – that's our motto. So what one woman knows and what the other doesn't, we teach them. It's a ring of support around us."
Lyn belongs to a women's group, which started in the early 80s. It was founded by the late Dorothy Dixon-Burrow because she felt there wasn't enough in Sheffield that enabled groups of women to get together.
"She was a midwife and a feminist and a political activist. She decided we needed a women's group for Afro-Caribbean ladies because we weren't involved in anything, we did nothing," says Lyn.
Dorothy's idea became Sheffield and District Afro Community Association, and what started out as a community group has led to life-long bonds.
"For me, the big challenge is my husband's dementia," says Lyn. "When my mum passed away, I went to the group and told them and broke down. Then my husband's dementia escalated. There's nothing much the women at the group could do, but they listened. I was seeing a psychologist too, but at the women's group there was more support and I could off-load."
The group has changed over time.
"The main reason for the group was exercise and keeping us fit and healthy. It wasn't specifically for black women but only black women attended. We opened it up to anyone really who was interested, but I think people just thought we were a black community centre, and so only for black people," says Lyn.
"We get different speakers in to talk about breast cancer, how to examine yourself and search for lumps and bumps. We had people from the council come and talk about benefits and accommodation. We had a few of us who were timid and shy, so we had talks on gaining confidence and how to speak out if you're suffering from mental health issues or abuse."
Lyn says the group has really helped her gain confidence. "I was shy and green because my upbringing was so strict, so I've learned lots from friendship."
The group has been running outdoor trips for about six years, and Lyn finds them relaxing and therapeutic.
"When you have stress and problems at home, you're able to forget it. You just take in the fresh green scenery and inhale. The thing is, a lot of us are quite old. I'm the youngest at 67. It's to keep active and keep the mind active. I learnt recently that horse riding and things really help with dementia and depression, and I didn't realise how important it was."
The outdoor trips are run for the women by Maxwell Ayamba at the Sheffield Environmental Movement. "We couldn't have achieved what we have without him, and we can't thank him enough," says Lyn.
Cora has been friends with two other members of the group for 30 years. "That's long-term friendship," she says.
"It's nice to come together with people you've known a long time. You've got a lot of things in common with each other and we laugh and talk.
"I think I am a strong woman, I think we all are. With the struggles that we've had to come through raising our children and working and dealing with society and racism. We're very strong because we've overcome a lot of adversity."
Cora says that activities, such as fishing, allow the women to leave their "home and daily routine" behind, and talk in a relaxed environment. She says they chat about subjects such as diabetes, dementia and isolation.
"There's that cohesiveness in the group, too, that's very hard to destroy because we've been together so long we have a real closeness," she says.
"Any difficulties or problems you're having you can share it and advice will be given. Like when we had problems with our children at school, we used to have a black parents' support group and go into the school and meet with the parents and the children and talk about how to overcome some of the challenges.
"Just by coming together as a support group you get strength from that, and that's very valuable."
Carmen, who is in her 80s, says the outing reminds her of going fishing in Guyana, where she grew up.
"My older sister and I used to go fishing but we took the fish home – we didn't throw them back. We would cook them, fry them or make fish curry."
She describes fishing as a lesson in patience. "If the fish doesn't bite well, there's no need to get angry because nobody wants to be caught, do they," she says.
"I've had to learn patience. When you're young you tend to rush and want things done now, now, now. As you get older you learn – it's no good pushing the boat out. You have to learn to be patient with people, particularly grown ups because if you've made a quick judgement and it's wrong then you have to go like a dog with your tail between your legs and that's no good. It's better to wait."
She says that the group has encouraged her to do things that she wouldn't normally do.
Her husband died two years ago, and life without him hasn't been easy. "This group for me is companionship. They have been beside me when I needed them even though they weren't aware of it. And I've learnt to love people a lot deeper.
"I love the countryside because I was born in the country. It is wonderful today. It feels peaceful, there's fresh air, and I feel alive when I'm in the country – really alive."
Elaine came from Jamaica to Sheffield 59 years ago – she says when she arrived there "weren't many black people" and it was hard. Eventually she got a job and got to know lots of local people.
For her, the group is about getting together with friends and trying something new.
"I've caught two fish and I'm right excited! First time I've ever been fishing. No-one ever really asked me to and I never thought about it.
I love the scenery, the water, the atmosphere, the company that you're in. It makes me feel good," she says.
"We're just ladies making jokes and teasing each other. Sometimes we can't do it with a man – it might not be appropriate. The man in my life just likes to do his garden."