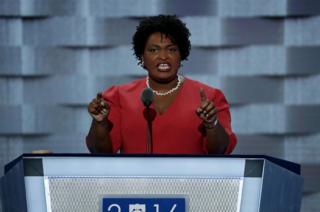 A former Georgia lawmaker and author has taken a major step towards becoming the first ever African-American female governor of a US state.
Stacey Abrams won the Democratic party primary on Tuesday, telling voters that trying to "convert" Republicans into Democrats has previously failed.
A Democrat has not held the red state's governor's mansion since 2003.
Ms Abrams, 44, will face a Republican candidate in the high-stakes mid-term contest in November.
Lt Gov Casey Cagle won the Republican primary on Tuesday, and will face Georgia's secretary of state Brian Kemp in a run off on 24 July to decide her eventual opponent.
If elected in the deeply conservative state, Ms Abrams would become the first woman and the first person from an ethnic minority to lead the southern state.
The US currently has six female governors, including two Democrats and four Republicans, in Alabama, Iowa, New Mexico, Oklahoma, Oregon and Rhode Island.
Ms Abrams prevailed over Stacey Evans, a 40-year-old state representative, with three quarters of the vote.
Familiar with 'first'
Ms Abrams was raised in Gulfport, Mississippi, with her five siblings.
She moved to Atlanta as a teenager with her parents, a college librarian and shipyard worker, who attended Emory University to study divinity and become United Methodist ministers.
It was in Georgia where she made her mark with a number of historic achievements.
She became the first African American female valedictorian of her high school before earning her undergraduate degree from Spelman College. She also received a master's degree from the University of Texas and a law degree from Yale University.
Ms Abrams was first elected to the Georgia state House of Representatives in 2006, and would later become the first woman to lead either party in the Georgia General Assembly as well as the first African American to lead the state's House of Representatives.
She has been considered a rising star among her party's progressive wing, taking centre stage at the 2016 Democratic National Convention.
She gave a rousing speech on economic inequality, drawing on her own experience, and her full-throated support for then-presidential nominee Hillary Clinton.
Politician or romance novelist?
Ms Abrams won the support of Mrs Clinton, who recorded a robocall for the former state House minority leader ahead of Tuesday's election.
"A Yale-educated attorney, Abrams is the only candidate with bold new plans to ensure Georgians have access to good jobs, quality public schools, affordable child care and higher education," Mrs Clinton reportedly said in the call.
But the star power did not stop with Mrs Clinton. Vermont Senator Bernie Sanders, New Jersey Senator Cory Booker, Senator Kirsten Gillibrand and California Senator Kamala Harris – who are all viewed as possible 2020 presidential contenders – also threw their support behind Ms Abrams.
National organisations including Planned Parenthood, MoveOn and EMILY's List have also endorsed Ms Abrams.
Aside from her political work, Ms Abrams has authored eight romantic suspense novels under the pen name Selena Montgomery.
She wrote her first book, Rules of Engagement, during her third year at Yale Law School and had originally envisioned it as a spy thriller, she told the Atlanta Journal-Constitution in 2013.
"I found if I made my spy fall in love, I could publish it as romance," she said at the time. "They got to kill all the same people they were going to kill, but they fell in love at the end of the story."
More on the mid-term primaries
Turning Georgia blue
In 2014, Ms Abrams founded the New Georgia Project, an initiative that focuses on registering the "New American Majority" – people of colour, those who are aged 18 to 29 and unmarried women, according to the organisation's website.
The group says these groups make up to 62% of the state's voting age population, but only 53% of registered voters.
The New Georgia Project claims to have registered over 200,000 state voters from 2014 to 2016.
Ms Abrams has focused much of her campaign on these communities – minorities, women and overlooked rural Democrats – rather than trying to win over moderate voters.
"We cannot win by pretending to be something we are not," Ms Abrams told CNN. "My mission is to demonstrate that if we bring everyone to the table we can win."
But the road to the governor's mansion will not be easy in a state US President Donald Trump won in 2016.
Lt Gov Casey Cagle, who won the first round of the Republican primary, serves as outgoing Gov Nathan Deal's second in command.
Ms Abrams has also come under scrutiny for lending her campaign $50,000 (£37,000) while she owed $50,000 in back taxes, financial disclosures showed.
But she penned a piece in Fortune magazine addressing her financial struggles, explaining how her more than $170,000 in student loan and credit card debt and IRS tax payments should not disqualify her as a candidate for Georgia's governor.
She explained the $50,000 owed to the IRS is for deferred tax payments and that she is on a repayment plan.
"I am in debt, but I am not alone. Debt is a millstone that weighs down more than three-quarters of Americans. It can determine whether we are able to run for office, to launch a business, to quit a job we hate," she wrote.
"But it should not – and cannot – be a disqualification for ambition."