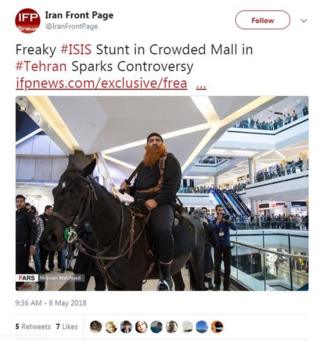 A stunt performed by a group of men dressed as fighters from the so-called Islamic State (IS) in a major mall in central Tehran has been met by harsh criticism.
They carried fake guns and swords, dressed in black, had long beards – and some were even riding horses. On Monday, a fake battalion of IS group militants swarmed into a shopping mall shouting "Allahu Akbar" ("God is greatest", in English). Video clips show shoppers reacting with a mix of curiosity, bemusement and outright fear as the actors walked around kicking chairs and stuffing fast food in their faces.
The staged event was a promotion for a propaganda film and generated a massive backlash on social media.
The film, "Damascus Time", promotes Iran's military operations in Iraq and Syria. It tells the story of an Iranian pilot and his son who are seized by IS group forces in Syria while delivering a cargo of humanitarian relief supplies.
The film was produced by the Owj Arts and Media Organisation – which is reportedly closely affiliated to the Islamic Revolution Guards Corps (IRGC), a branch of the Iranian armed forces which is in charge of operations in Syria and Iraq.
Although Twitter is blocked inside Iran, expats and those inside the country who evade the ban by using virtual private networks quickly jumped on the story and created a Persian hashtag which translates as "Damascus Time".
Quick reaction
One reformist journalist, who has been arrested previously in crackdowns on journalists, questioned why the actors don't appear to have been challenged by police. "If four teenage high school students had gathered in Kourosh Mall, police would have immediately arrived to arrest them for violating public order!" wrote Saba Azarpeik.
Another Twitter user called it a "Daesh-style film promotion." "Daesh" is an Arabic term for the so-called IS group, and is usually used in a derogatory sense.
In a sarcastic post on her Instagram page, actress Anahita Hemmati wrote: "Only in a country where a father caresses his child with a machete and rope… women and girls are beaten to observe the law of forced hijab (headscarf), women and children are of no importance and the environment is being destroyed, do they seek to promote a film by creating fear."
However, a few pro-government voices also entered the conversation. One said that those who were terrified by the stunt should be "grateful" to Iranian fighters abroad.
Director apologises
Following the barrage of criticism, the film's director, Ebrahim Hatamikia, issued a statement and said he was unaware of the stunt. He offered an apology to everyone who was frightened.
"I thought a person with a red beard was going to stand outside the mall and let fans take selfies with him," he said in the statement. "I didn't know there would be horses, screams and crowds inside the mall.
"The show was definitely beneath the dignity of my film," he said
An Owj Organisation spokesperson, Mohmmad Zoghi, denied that the stunt caused much panic, and in an Instagram post, he insisted that shoppers had been given plenty of notice about the event.
After the initial outcry about the stunt, the ISNA news agency reported that the people behind it have been summoned by Tehran's Law Enforcement Force.
Tehran police chief Brigadier General Hossein Rahimi told ISNA: "What happened in the Kourosh mall was against the law and it had not been coordinated with the police."
Reporting by BBC Monitoring
Do you have a story for us? Email BBC Trending.
More from Trending: The online activists pushing Syria conspiracy theories
As the investigation continues into another alleged chemical attack in Syria, one group of influential online activists is busy spreading their version of events. READ NOW
You can follow BBC Trending on Twitter @BBCtrending, and find us on Facebook. All our stories are at bbc.com/trending.