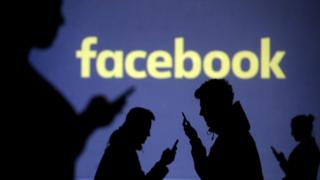 Facebook shares opened sharply lower on Thursday, after the social media network warned investors of slowing revenue gains and increased spending.
The firm's shares opened 20% down, a drop that wiped more than $100bn (£76bn) off Facebook's market value.
The fall also dragged down the tech-rich Nasdaq share index, which was almost 1% lower.
Facebook's forecast came as the firm faces a backlash over its handling of fake news and user data.
The company said it expected to boost spending by 50% or more, as it tries to improve the way it monitors content, tracks advertisers and treats user data – areas where it has faced regulator scrutiny.
The firm also warned investors that revenue growth would be hurt as people make use of new options to limit advertising and less profitable overseas markets drive growth.
Facebook, which also owns Instagram and WhatsApp, said its margins would shrink to the mid-30% range, from about 44% in the most recent quarter.
Contagious?
The concerns, despite Facebook's year-on-year revenue growth of more than 40% in the most recent quarter, appeared to infect some other technology stocks.
Twitter, which has faced similar criticism to Facebook and is due to report quarterly results to investors on Friday, was down about 3%, as was Snap, the social messaging service.
Other companies proved more resilient.
Alphabet, which owns Google and YouTube, and also relies on digital advertising, was down less than 1%, while music streaming service Spotify gained almost 1%, after reporting stronger than expected user growth.
Many of the factors affecting Facebook are unique to the company, said Daniel Ives, chief technology officer at GBH Insights.
The firm has been in the spotlight for its involvement with data firm Cambridge Analytica.
Facebook has also changed the news feed to emphasise posts from family and friends, tweaks that chief executive Mark Zuckerberg had previously cautioned would affect profitability.
Analyst Richard Greenfield of BTIG Research wrote in a note that investors were "overreacting".
He said Facebook remained a rich opportunity for advertisers, and the investments it is making should drive long term growth.
"We were pretty stressed out during Facebook's Q2 2018 conference call and could sense the fear/panic in investors voices afterwards," he wrote.
However, he added: "Mobile is eating the world and Facebook is a core holding to benefit from that shift."