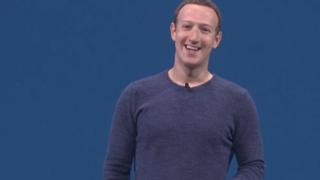 Facebook's chief has said that 2018 has been an "intense year" for his firm, but that he was committed to taking a "broader view" of its responsibilities.
Mr Zuckerberg was speaking at his firm's annual F8 developers conference in San Jose, California.
It marks the latest effort to deal with a privacy scandal involving a political consultancy.
Cambridge Analytica gained access to millions of users' personal details that had been harvested via an app.
Mr Zuckerberg described this as a "major breach of trust" that must never happen again.
As part of its efforts to tackle the issue, the social network is carrying out an audit of other apps and has restricted developers' access to some of its data.
But that in turn has caused frustration among Facebook app creators whose products no longer worked properly as a consequence.
Ahead of the event, the firm announced it was building a new Clear History tool to address users' desire to have more control over how their information is used.
It said the feature would:
let members see which third-party sites and apps Facebook collects data from
provide the ability to delete the information
prevent Facebook from being able to add such details to their profile in the future
However, the firm added that it would take a few months to add the facility, and that it would still need to retain related information in "rare cases" for security reasons.
Mr Zuckerberg referenced the forthcoming feature in his speech, adding: "We will have a lot more like this to talk about soon."
In a separate development, some US-based users have reported that a new prompt has appeared beneath posts on their News Feed asking them if the messages contain hate speech.
The service apparently extends to updates written by Mr Zuckerberg himself.
A spokeswoman for the company was unable to provide further details.
Online dating
Mr Zuckerberg also took time to introduce new features unrelated to the privacy scandal.
These included a new service to help singletons on the platform meet potential dates.
The feature would focus on "long-term relationships, not hook-ups", he added, and would exclude existing friends from potential matches.
The initiative is likely to cause concern at Tinder and other dating apps that have built their services off the back of Facebook data.
Mr Zuckerberg also announced that video chat and new augmented reality filters were coming to its photo-sharing Instagram app.
In addition, he said that group video calling would soon launch on its WhatsApp messaging service, and that the app would soon add new tools for big businesses to be able to use the platform to communicate with their customers.
The chief executive also paid tribute to WhatsApp's co-founder Jan Koum, who announced he was quitting the company yesterday.
"One of the things I'm most proud of is we've built the largest, fully encrypted network in the world," Mr Zuckerberg said.
According to a report by the Washington Post, Mr Koum had decided to leave because he was unhappy that plans for the forthcoming business tools involved a weakening of WhatsApp's encryption.
Virtual reality
Mr Zuckerberg rounded off his list of unveils by revealing that his company's Oculus virtual reality division had begun shipping its first standalone headset, meaning the device does not need to be plugged into a PC or smartphone to work.
He said the $199 kit – which costs £199 in the UK – was the "easiest way to get into VR" and had the "highest quality lenses and optics that we have ever built".
The firm's larger Oculus Rift headsets have proved less popular than many industry insiders had predicted, and appear to have been outsold by Sony's less powerful PlayStation VR gear.
Experts are split about the new device's prospects.
"The new device makes VR much more accessible to everyone," commented Adrian Willings from the gadget review site Pocket-lint.
"It's a brilliant middle ground, but it's a mobile experience so not as good as a PC one."
But the head of games at the IHS consultancy was less positive.
"I see the Oculus Go headset as quite awkwardly positioned versus existing technology in the market," said Piers Harding-Rolls.
"The major thing it has going for it is its price point, but the fact it has a similar user-experience to a premium smartphone adapter headset limits its appeal."