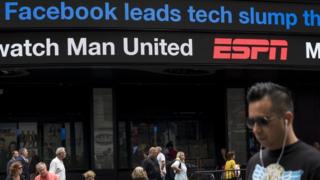 It was one of the biggest one-day losses in US corporate history.
At the start of the day, Facebook was worth $630bn (£481bn). By the end, it was valued at $510bn (£389bn).
Company founder Mark Zuckerberg personally lost more than $15bn (£11.5bn) in one day, seeing him fall from fourth to sixth on Forbes' list of global billionaires.
The drop came after the social media giant published its second quarter results.
Although still positive, they came in below investor expectations – and company shares had plummeted nearly 20% by the end of the day.
So why the weaker numbers? Why did markets react so badly? And what does this mean for Facebook?
What did Facebook say?
The firm announced that its user growth rose at its slowest rate in two years.
It also warned that billions in spending, planned to improve privacy and track advertisers, would outweigh revenue gains.
Those revenue gains had themselves been limited by a fall in user numbers outside the US and people making use of new options to limit advertising.
What role did recent scandals play?
Facebook attributed their results to a new advertising format and giving users more control over privacy.
But the elephant in the room was the swirl of scandals surrounding the company.
The biggest involved Facebook sharing the data of 87 million users to a researcher at Cambridge Analytica, a political consulting firm.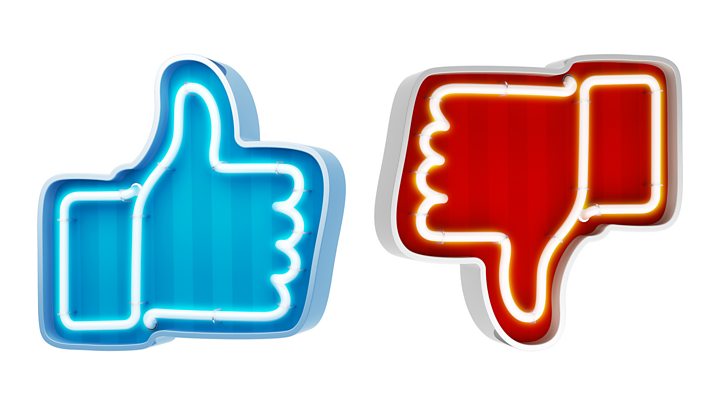 In May, Mr Zuckerberg appeared before the US Senate to apologise for his company's role in the data breach.
He also spoke about "fake news", and allegations that Russia used Facebook to interfere in the the 2016 US presidential election.
Craig Erlam, senior market analyst at Oanda, said these scandals have had a "negative impact" for the firm.
"Trust is so important with consumer trends," Mr Erlam told the BBC, "and people may feel that Facebook betrayed their trust."
How relevant was GDPR?
Facebook announced that the number of its users in Europe fell by 3 million in the first quarter, to 279 million. North American users stayed flat at 185 million.
This follows the introduction in late May of the EU General Data Protection Regulation (GDPR).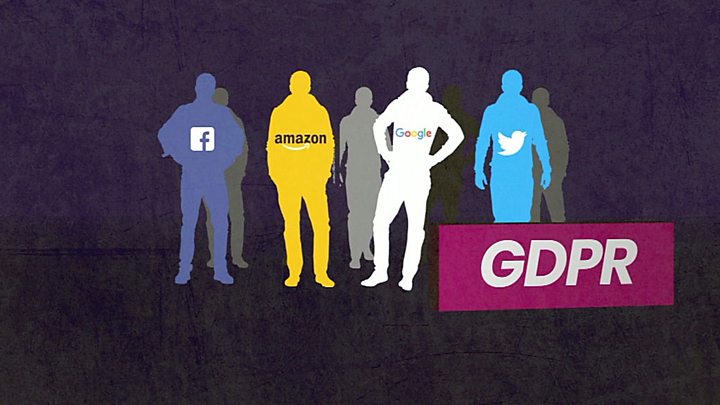 The new rules make it easier for consumers to find what data organisations hold on them, increases maximum fines for privacy breaches, and makes it mandatory to report any breaches to the authorities.
According to US news network CNBC, Facebook CEO Sheryl Sandberg said GDPR has not hugely affected advertising revenue, but the full effects of the new law may not be felt until the next quarter.
Is competition a factor?
Facebook has been the dominant social media giant for years, and remains vastly popular.
In its results, the company said it had more than 2.2 billion monthly active users at the end of June.
But their latest data does suggest user number growth is slowing.
A study from the US-based Pew Research Center suggests young people are ditching Facebook for Snapchat, Instagram and YouTube, with 85% of teens preferring the video platform to Facebook.
"Social media is such a rapidly evolving world, and it's very hard to pull people back once they've moved platform," Mr Erlam said.
And while Facebook owns Instagram and Whatsapp, it cannot financially rely on those apps yet, according to Mr Erlam.
"I don't think Instagram offers enough to offset advertising loss at this time," he said.
Michael Hewson, chief market analyst at CMC Markets, told the BBC that the challenge now facing the company was how to monetise its other platforms.
Do investors expect too much?
Mr Hewson did however warn the market reaction to the results may have been overblown.
Despite its warnings and weaker numbers, Facebook announced year-on-year revenue growth of more than 40% in the most recent quarter.
"Investor expectations of growth strategy was out of whack," he said, adding that company management would be well-advised to "temper" expectations to prevent "irrational exuberance" from investors.
So how bad is it?
The company's market value dropped around $120bn in one day.
To put that in context, McDonald's is in total worth $122bn on the New York Stock Exchange, with US industrial giant General Electric worth $114bn.
So it is a loss that Facebook can absorb.
"It's not the end, not on the basis of one set of numbers," Mr Hewson said. "There needs to be a sense of perspective."