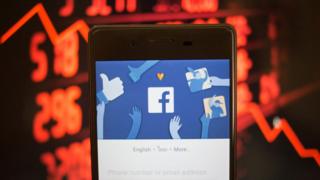 Facebook has denied reports that it is actively asking banks for details of users' financial transactions.
The statement follows a story in the Wall Street Journal that said the social media giant had asked US banks for such data.
Facebook said some users opted in to accessing some financial information in its Messenger app.
Any data that was accessed by the company for such purposes was not used for advertising, it added.
The Wall Street Journal had reported that Facebook approached JPMorgan Chase, Wells Fargo, Citigroup, and US Bancorp to ask for information about users' account balances and card transactions.
However, Facebook said that users must opt in to linking the Messenger chat app to their bank accounts.
'Completely opt in'
"Like many online companies with commerce businesses, we partner with banks and credit card companies to offer services like customer chat or account management," Facebook said.
"The idea is that messaging with a bank can be better than waiting on hold over the phone – and it's completely opt in."
Some account linking is in place on a relatively small scale at the moment – for example, Facebook users in Singapore who bank with Citi can check balances and view recent transactions.
More widely, Facebook users can connect their PayPal accounts to Messenger to track transactions and shipping updates.
The ability to make payments via Messenger was rolled out to UK Facebook users last year.