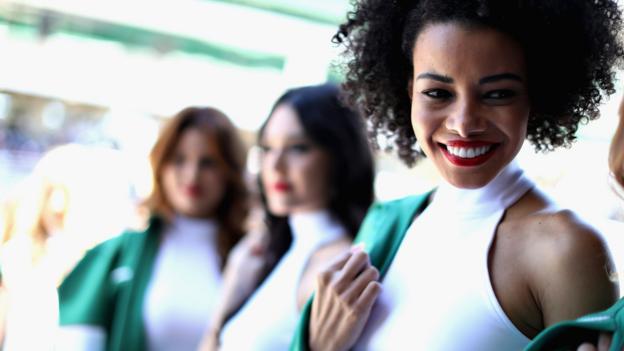 It is wrong to objectify women in sport says boxer and anti-sexism campaigner Stacey Copeland, after world champion Lewis Hamilton welcomed the return of "beautiful" women to the F1 grid.
Models for watchmaker Tag Heuer will feature before Sunday's Monaco Grand Prix – though not in 'grid girl' roles.
Copeland told BBC Sport: "It doesn't add anything and enough is enough.
"It's not about ugly versus beautiful, it's saying the sexual objectification of women in sport is not OK."
Formula 1's owner Liberty Media stopped the use of 'grid girls' in January, saying their use was "at odds with modern day societal norms".
Traditionally, grid girls would hold driver placards on the grid but the Monaco models – who will include men – will only be there as representatives of Tag Heuer, taking pictures of the drivers to be posted on social media.
Both world champion Hamilton and Ferrari driver Sebastian Vettel supported the decision to have female models on the grid.
"Women are the most beautiful thing in the world," said 33-year-old Mercedes driver Hamilton.
"Monaco is a very elegant grand prix and when we pull up to the grid and there's beautiful women on the grid, that's the Monaco Grand Prix and that's a lovely thing."
Former world champion Vettel added: "I like women. I think they look beautiful. The bottom line is that there is too much of a fuss nowadays."
Copeland, 36, who has campaigned for the end of ring girls in boxing, said it was imperative to end these traditions in sport.
"Change is always really tough and will have its ups and downs, but just because we've always done something does not mean it should carry on.
"Grid girls in F1 and ring girls in boxing are unnecessary and unequal so we have to over-correct."
Why are they used at the Giro?
The Giro d'Italia remains the only one of the major cycling tours which features female models kissing the respective leading riders after the end of each stage.
The Tour de France no longer uses podium girls, and the Vuelta a Espana used smartly-dressed men and women in 2017.
Giro race director Mauro Vegni said earlier this year that the halt in using the models in other races is just a fad.
"RCS Sport [race organisers] believe that in this specific moment it is more of a temporary trend to remove them from sport events," he said.
"As long as those girls are treated with respect and carry on their job in a professional manner, there is no reason for changing the hospitality process."