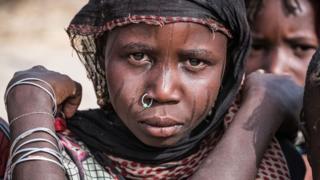 Gordon Brown is launching a $10bn (£7.4bn) scheme to widen access to education in some of the world's poorest countries.
The UN global education envoy and ex-UK prime minister wants donor countries to act as guarantors on low-cost lending for projects.
The fund aims to tackle the problem of 260 million children without schools.
Mr Brown warned the UN in New York that such gaps would have "catastrophic consequences".
The International Finance Facility for Education, backed by the UN and World Bank, aims to provide $10bn worth of loans and grants to allow poorer countries to build schools and hire teachers.
'Civil rights struggle'
The funding would create places for an initial 20 million children currently out of school.
UN Secretary-General Antonio Guterres said it was "critical" to get international support for the funding initiative.
Mr Brown is in contact with representatives of 20 countries which he hopes will support this project.
He wants them to provide financial guarantees for loans for education, in the way that financing was used for mass immunisation schemes.
The ambition, says the former prime minister, is to have the first generation in history in which all young people have a chance to go to school.
Access to education, he says, is the "civil rights struggle of our time".
The lack of school places has appeared to be an "intractable problem", but he says that mobilising such funding would provide low-income countries, such as in sub-Saharan Africa, with a way of making rapid progress.
Current aid levels only provided a fraction of what was needed – when education was "vital to economic success and individual potential".
"We can't get away from the fact that there's an education crisis. This divide has catastrophic consequences," said Mr Brown.
"Instead of being in school, children will be trapped as labourers, brides, soldiers, and victims of trafficking.
"Aspiring doctors, lawyers, teachers, and innovators of tomorrow will never realise their talents – this is a loss we cannot afford."
Mr Guterres said it was not possible to accept so many children "failing to learn even the most basic skills".
"In the coming decade, some one billion young people will enter the workforce. They all need education so that they can help build a world of peace, prosperity, dignity, and opportunity for all."