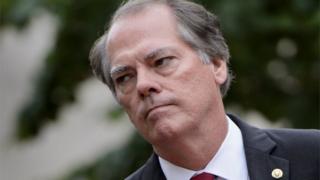 A former staff member of the Senate Intelligence Committee has turned himself in to the FBI as part of an investigation into government leaks.
James A Wolfe, 58, had served for almost 30 years as the committee's director of security. He is now charged with lying to the FBI.
Mr Wolfe was entrusted with top secret information during his tenure, but he has not been charged for any leaks.
He lied to the FBI about contacts with three reporters, prosecutors say.
What is he charged with?
Mr Wolfe, who retired in May, was charged on Friday for making false statements in December 2017, including his use of encrypted messaging applications and providing sensitive information about the Senate committee to two reporters.
The intelligence panel is investigating alleged Russian meddling in the 2016 election.
The US Department of Justice accuses Mr Wolfe of being in regular contact with reporters, who he allegedly met at restaurants, bars and in a Senate office building.
In a FBI investigation into unauthorised leaks, agents examined how former Buzzfeed reporter Ali Watkins had learned that former Trump campaign aide Carter Page had met Russian operatives in 2013.
FBI agents confronted Mr Wolfe about knowing Ms Watkins, and he initially denied knowing her.
When agents showed Mr Wolfe pictures of the two together, he admitted they had been in a relationship beginning in 2014, but maintained he had never disclosed to her classified information, according to court documents.
As last week's charges against Mr Wolfe were announced, the New York Times, where Ms Watkins now works, reported that the FBI seized a year's worth of records from her as part of the investigation into the leaks, sparking discussions about freedom of the press rights.
After hearing of Mr Wolfe's arrest, President Donald Trump told reporters: "I'm a very big believer in freedom of the press, but I'm also a believer that you cannot leak classified information."
---
Treacherous terrain
Analysis by Anthony Zurcher, BBC News
Donald Trump told his Justice Department to crack down on the leaks that have bedevilled his administration – and now they have made their first high-profile arrest.
James Wolfe is anything but a household name, but as a long-time Senate Intelligence committee staffer he had access to the kind of classified information that has repeatedly surfaced in media reporting.
FBI investigators gained access to communications with journalists via encrypted messaging apps, which should give pause to reporters and sources who might believe their words are hidden from prying eyes.
Although this is the first leaking case for the Trump administration – and the court-ordered seizure of a journalist's phone and email records will elicit howls from free-press advocates – it is far from the first time a president has pushed First Amendment boundaries to find and prosecute leakers.
The Obama administration engaged in protracted legal battles with media organisations on multiple occasions.
Complicating matters further, Mr Wolfe is accused of lying about a romantic relationship he had with a young New York Times reporter who first made a name for herself by helping break a major story involving the Senate Intelligence committee as a senior at Temple University in 2014.
The moral high ground in this case will be treacherous terrain.
---
The indictment also says Mr Wolfe and Ms Watkins had "exchanged tens of thousands of electronic communications, often including daily texts and phone calls".
Mr Wolfe's arrest comes as the Trump administration continues to crack down on leaks of classified information to the media.
Both the president and US Attorney General Jeff Sessions have vowed to pursue investigations into government leaks.
Senate Intelligence Committee chairman Richard Burr said his panel was "troubled" by the charges and would take the matter "extremely seriously".
Mr Burr, a Republican, said the committee has "fully co-operated" with the FBI and "trust the justice system to act appropriately and ensure due process as this case unfolds".
Mr Wolfe is scheduled to appear in federal court in Washington on Tuesday.