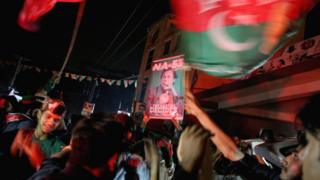 Ex-cricket star Imran Khan has taken an early lead as votes are counted in Pakistan's poll, but political rivals allege vote-rigging on a major scale.
Early unofficial results suggest his PTI party are in the lead, but it will need to form a coalition if it is unable to secure a simple majority.
Results are trickling in slowly, but election officials deny rigging saying there are simply technical problems.
Voting day saw bloodshed, with many killed in a blast at a polling station.
This historic election will mark only the second time that a civilian government has handed power to another after serving a full term in Pakistan.
With 42 per cent of polling stations counted, the Election Commission of Pakistan had Mr Khan's Pakistan Tehreek-i-Insaf (PTI) party leading in 113 of 272 contested National Assembly constituencies, according to Pakistan's Dawn Newspaper.
But the party of disgraced former Prime Minister Nawaz Sharif has weighed in rejecting the results, as have a host of smaller parties, all alleging vote-rigging and manipulation.
"The way the people's mandate has blatantly been insulted, it is intolerable," Shehbaz Sharif, leader of the PML-N and brother of the former prime minister.
Election officials say delays in releasing the results are simply down to technical failures in the electronic reporting system and the votes are now being counted manually.
"There's no conspiracy. The delay is being caused because the result transmission system has collapsed," said Babar Yaqoob of Pakistan's election commission.
But any delay to the formation of a government is likely to be a concern for Pakistanis waking up to an unclear result, considering Pakistan's turbulent political history and a brewing economic crisis.
Why does this election matter?
Pakistan has a population of nearly 200 million, and is a nuclear-armed rival to India, a key developing economy and one of the world's largest Muslim-majority nations.
The country has been ruled on and off by the military during its 71-year history, so this election is significant because it is considered the country's second consecutive democratic transition.
The election has been seen as a contest between Imran Khan's Pakistan Tehreek-e-Insaf (PTI) party and Mr Sharif's Pakistan Muslim League-Nawaz (PML-N).
Mr Sharif, who won the last election, has been jailed for corruption after a scandal stemming from the Panama Papers leak.
Are the elections clean?
Both the run-up to the vote, and the vote count itself, have been highly controversial.
Ahead of the elections, the PML-N complained of a targeted crackdown by the security establishment, with the alleged help of the courts, in favour of the PTI party. The Pakistani military denied interfering in politics.
Independent media, meanwhile, say there have been blatant attempts to muzzle them, while the human rights commission has said there are "ample grounds" to question the legitimacy of the polls.
After the polls closed on Wednesday, several political groups alleged that vote rigging was taking place in polling stations – something denied by election officials.
Representatives from several parties said that their polling agents were expelled from polling stations during vote count and were denied certified copies of results – breaching election procedures.
Analysts have also highlighted unusual delays in the announcement of unofficial results in dozens of constituencies, especially in the crucial province of Punjab which has been a stronghold of PML-N.
What are the results of the vote?
The election commission has not released official results yet.
According to unofficial initial results, the PTI party is currently leading in about113 national assembly seats, while PML-N is ahead in about 60seats, local media report.
However, only about a third of the votes have been counted so far, Dawn newspaper says.
The party of assassinated former prime minister Benazir Bhutto, the historically liberal PPP, is widely expected to come third.
It is now fronted by Ms Bhutto's son, Bilawal Bhutto Zardari, a 29-year-old Oxford University graduate.
The turnout has been estimated at between 50% and 55% out of 106 million registered voters, AFP reports.
Who is Imran Khan?
Previously an international cricket star who led Pakistan to a World Cup victory in 1992
Educated at the University of Oxford
Attracted media attention due to his playboy lifestyle and three marriages
Launched his Pakistan Tehreek-e-Insaf (PTI) in 1996 but spent years on the political sidelines
Has campaigned against corruption and dynastic politics in Pakistan
Faces accusations – which he denies – that his party is benefitting from alleged meddling by the military
Read more: The cricket hero who could be Pakistan's next PM
More on Pakistan's election