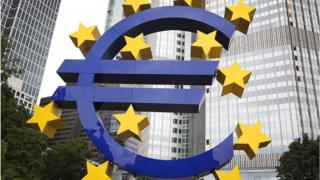 The European Union economy slowed in the first quarter of the year, official Eurostat figures have showed.
Economic growth in the eurozone slowed to 0.4% for the period from January to March 2018, compared with 0.7% in the previous quarter.
Growth in the 19-country single currency bloc reached 2.5% year-on-year.
However, the eurozone is still doing better than the UK economy, which only grew by 0.1% in the same quarter.
"This was the fifth out of seven consecutive quarters that the eurozone grew faster than the UK following the EU referendum," said Barret Kupelian, senior economist at PricewaterhouseCoopers.
"This suggests that the UK has not been able to reap the full benefits of an upturn in global economic activity, unlike other large economies like the eurozone and the US."
Mr Kupelian said the latest GDP figures showed that the UK had been the slowest-growing economy relative to the US and the eurozone for four consecutive quarters.
Construction improves
However, latest figures from HS Markit/CIPS UK Construction Purchasing Managers' Index (PMI) showed that the UK construction industry has rebounded from a bad start to the year.
Construction returned to a growth of 52.5 in April, compared to 47 in March, when construction decreased to bad weather caused by the Beast from the East in late February and March.
Any figure above 50 indicates expansion, while anything less than 50 denotes contraction.
Despite this, analysts remain cautious about the housebuilding industry's growth.
EY Item Club said the improvement in the April construction figures was highly unlikely to assuage the Bank of England's increased concerns over the economy.
It feels an interest rate hike at the Bank of England's Monetary Policy Committee meeting in May "still looks improbable".