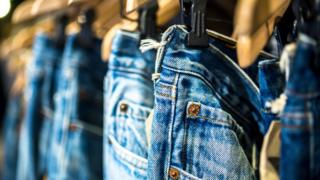 The European Union will launch a raft of retaliatory tariffs against US exports on Friday, a top official has said.
The move comes after US President Donald Trump imposed steep duties on steel and aluminium in May.
American exports such as blue jeans, motorbikes and bourbon whiskey will be targeted, trade commissioner Cecilia Malmstrom confirmed.
However, she said the bloc "did not want to be in this position".
"The unilateral and unjustified decision of the US to impose steel and aluminium tariffs on the EU means that we are left with no other choice," she said.
Brussels drew up the list of products in March when Mr Trump initially proposed the 25% tariffs on steel imports and 10% on aluminium, which also target Canada, Mexico and other close US allies.
Cranberries, orange juice, sweetcorn and peanut butter are among the other goods targeted.
It comes amid an intensifying row over trade between the US and its partners.
On Tuesday, Mr Trump threatened to impose duties on an additional $200bn (£151bn) of Chinese goods after hitting $50bn of products with tariffs.
He said the 10% duties would come into effect if China "refuses to change its practices".
However, China accused the US of "blackmail" and said it would "fight back firmly", raising fears of a full-blown trade war.