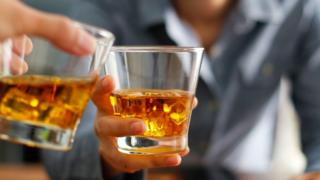 The European Union (EU) has introduced retaliatory tariffs on US goods as a top official launched a fresh attack on President Donald Trump's trade policy.
The duties on €2.8bn (£2.4bn) worth of US goods came into force on Friday.
Tariffs have been imposed on products such as bourbon whiskey, motorcycles and orange juice.
European Commission president Jean-Claude Juncker said duties imposed by the US on the EU go against "all logic and history".
The Trump administration announced in March that it would introduce tariffs of 25% on steel and 10% on aluminium imported into the US.
After being deferred, the duties on steel and aluminium went ahead on 1 June and affect the EU, Canada, Mexico and other close US allies.
Mr Juncker, who has previously criticised the move, said on Thursday: "It goes against all logic and history. Our response must be clear but measured."
Addressing the Irish parliament in Dublin, he added that "we will do what we have to do to rebalance and safeguard" the EU.
The majority of US goods targeted by the EU, such as tobacco, Harley Davidson motorcycles, cranberries and peanut butter, will now carry a tariff of 25%.
However, the EU has introduced a 50% duty on goods such as footwear, some types of clothing and washing machines.
The new duties have been imposed as tensions over trade continued to grow between the US and China.
Earlier this week, Mr Trump threatened to impose 10% duties on an additional $200bn (£150bn) worth of Chinese goods which he said would come into force if China "refuses to change its practices".
However, China accused the US of an act of "extreme pressure and blackmail" and said it would respond with "strong countermeasures".