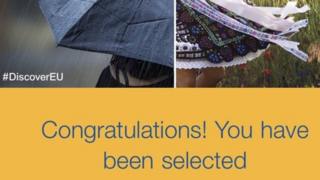 A free Interrail ticket for teenagers to discover Europe may sound too good to be true – and for thousands of hopefuls that has proved to be the case.
The EU has now closed a controversial lottery that allocated 15,000 free tickets to 18-year-olds; but more than 100,000 applied. The window for applications was 12-26 June.
Those lucky enough to get a ticket can spend a month visiting up to four other European countries by rail, between 9 July and 30 September.
In future, the European Commission plans to expand the scheme to enable 1.5 million 18-year-olds to visit their European neighbours, funded by €700m (£619m; $815m) of EU money.
The cost of this first round of Interrail freebies – called DiscoverEU – was €12m, and each of the 28 member states had a quota of tickets. Tickets would normally cost between €255 and €510 for a one-month pass.
Applicants had to do an online quiz about EU cultural heritage, European Parliament elections and youth.
The DiscoverEU website makes it clear that there is an underlying political motive: to combat "misinformation about Europe".
"If we want to counter the current growth of populism, they need to be able to discover for themselves the advantages of free movement, the reality of neighbouring countries and what unites this diversity of people," it says.
Eurosceptics however see it as a waste of taxpayers' money – the latest example of Brussels extravagance.
Jill Seymour MEP of the UK Independence Party (UKIP) said "young people across Europe would prefer for the EU to solve the chronic youth unemployment crisis rather than this blatant attempt at bribery".
With Brexit scheduled to happen next March, this was the first and last chance for young Britons to apply for the free EU pass.
The UK quota was 1,900 – and 3,786 applied, an EU official told the BBC. The quotas were decided according to a country's population.
Hopes dashed
In Spain and Germany just one in 10 of applicants passed the selection process for a free ticket.
Several young people who spoke to the BBC said there was a lack of the information about the scheme.
Nour Ghantous from Coventry said she and her boyfriend Bill were unable to apply because they "didn't know anything about the scheme until the final day". "Our friends didn't even know about it."
Sam Salih from London told the BBC he had been "unable to get through on the website despite trying the whole day to do so".
In Spain more than 11,000 applied, but the ticket allocation was only 1,364, the Spanish newspaper El País reported. Germany had more than 19,000 applicants for 2,500 tickets.
Ireland only received 140 free tickets, yet more than 2,500 young Irish people applied.
Robert Gaynor from Sligo in the west of Ireland told the BBC about his disappointment.
"I was really looking forward to having the opportunity to travel independently and with people my age. I wanted to go to Germany and Finland without having to worry about the cost."
What is interrailing?
Interrail was launched in 1972 as a Europe-wide train ticket for young people, costing back then just £27.50 and covering countries from Ireland to former Yugoslavia.
In the 1990s it was a cheap way to explore the newly independent countries of the ex-Soviet bloc.
Now there are various types of Interrail ticket, and it is not limited to young people.
Co-operation between more than 35 European railway and ferry companies made it possible.
'Excited to explore'
Maria Antònia, a student from Majorca, was one of the lucky winners. She is looking forward to travelling with friends around Europe cheaply.
"We'll hopefully be visiting northern Europe and we're really excited to explore and take in different cultures," she told the BBC.
Eleanor Page won one of the tickets allocated to British 18-year-olds.
She said she "can't wait to visit Amsterdam, Hamburg, Vienna and Venice".
Although thousands of young Europeans were unlucky to get a free ticket, there will still be a month of freedom on Europe's railways for 15,000 others.
The BBC's Laurence Peter contributed to this article.