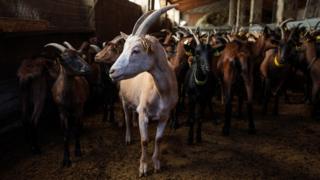 The European Commission's first multi-year budget after Brexit would try to plug the gap left by the UK's exit from the European Union with taxes on plastic waste and carbon emissions.
The 2021-2027 budget of €1.279tn (£1tn; $1.4tn) proposes a cut to agriculture subsidies but more money being spent on security, immigration and research.
It also introduces a mechanism to link funds to observing the rule of law.
The UK, which pays €12-14bn into the budget, is to leave the EU in March.
The proposed budget represents 1.1% of the total gross national income (GNI) of the bloc which reduces to 27 nations after Brexit.
The proposals must be agreed by EU leaders and the European Parliament. The Commission – the EU executive – said it should be a matter of urgency.
What is proposed?
Agriculture
5% cut to the Common Agricultural Policy, seeing a budget of €365bn
Subsidies to be better balanced, benefiting medium-sized and smaller farms, and a subsidy cap per farm
Security and migration
Budget for border management, migration and refugee flows to increase from €12bn to €33bn
Staff of EU's coast and boarder guard to be expanded from 1,200 to 10,000
Education and research
64% increase in research, innovation and digital investment under direct management
Funding for the Erasmus+ student scheme doubled to reach more young people from disadvantaged backgrounds
Budget Commissioner Guenther Oettinger said: "We invest even more in areas where one single member state can't act alone or where it is more efficient to act together – be it research, migration, border control or defence."
The proposals also include a new mechanism to hold back some budget funds from states considered to be undermining rule of law – a measure that is likely to face resistance from Hungary and Poland, accused of disrespecting those values.
Where will the money come from?
The proposals to raise new resources, amounting to €22bn per year, include:
20% of the revenues from the Emissions Trading Scheme, which aims to curb global warming and goes to member states
A national contribution based on the amount of non-recycled plastic packaging waste in each member state – €0.80 per kilo