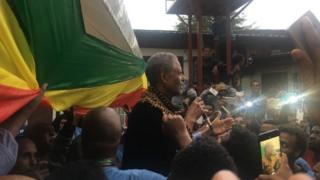 An Ethiopian rebel group has suspended its armed resistance against the government.
Ginbot 7 said Prime Minister Abiy Ahmed's reforms had given it hope that "genuine democracy" may be "a real possibility".
Earlier, the government said it had unblocked 264 websites and TV channels.
This is the latest of numerous changes made since Mr Abiy came to office in April, relaxing the state's previously tight grip on power.
Ginbot 7, which is based in neighbouring Eritrea, had been designated a terrorist organisation by previous governments.
Its secretary-general, Andargachew Tsege, was seized in Yemen in 2014, and then sent to Ethiopia where he had been sentenced to death in absentia in 2009 for allegedly plotting a coup.
The Ethiopian government pardoned Mr Tsege on 29 May and he has since returned to the UK, where his family lives.
Mr Tsege recently told the BBC that his release came after Prime Minister Abiy had threatened to resign.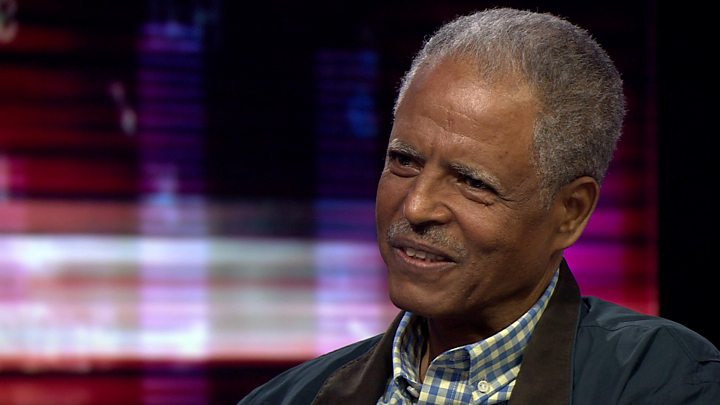 In recent years, Ethiopia has been riven by protests by members of the country's two largest ethnic groups – the Oromo and the Amhara.
Demonstrations first spread across the country in 2015 amid calls for political and economic reform and an end to state corruption.
The government was accused of human rights violations in that time – including torture and extrajudicial killing of political dissidents.
Reforms yielding results
By Ashagre Hailu, BBC Amharic editor
Ginbot 7's decision to end a 10-year armed resistance is an achievement by Prime Minister Abiy Ahmed.
Ginbot (May) 7 was founded in 2005 and named after the date of that year's elections, which were marred by protests over alleged fraud that led to the deaths of about 200 people.
The group argued that peaceful struggle was not working.
It said it was not fighting to seize power, but wanted to help usher in a democratic system that respects the rights of the citizen.
The movement said its goal was "the realization of a national political system in which government power and political authority is assumed through peaceful and democratic process based on the free will and choice of citizens of the country".
The Ethiopian parliament outlawed the movement as a terrorist organization alongside the Oromo Liberation Front (OLF) and the Ogaden National Liberation Front (ONLF).
The prime minister recently called for all armed groups to lay down their arms and return to the country.
The interviews Mr Tsege has given since his release indicate that he is convinced of the goodwill of the prime minister and his reforms.
Reports indicate that other rebel groups have opened a dialogue with the Ethiopian government.
Eritrea has accepted Ethiopia's call to end a two-decade confrontation, so insurgent groups based in Eritrea are also expected to lay down their arms.
'Free market of ideas'
US-based television stations, Ethiopian Satellite Television (ESAT) and Oromo Media Network (OMN), were among the outlets barred and charged in absentia for inciting violence and promoting acts of terror by the government.
Many journalists were given prison sentences for stories they had written, while others fled the country.
Ethiopian Prime Minister Hailemariam Desalegn resigned unexpectedly in February, saying he hoped to end years of unrest and political upheaval.
Mr Abiy has announced a flurry of sweeping reforms since taking office in April.
He has pledged to open up the airwaves, even calling on foreign-based opposition TV broadcasters to open offices in Ethiopia.
Fitsum Arega, Prime Minister Abiy Ahmed's chief of staff, announced the unblocking of media platforms on Twitter, saying "freedom of expression is a foundational right".
"A free flow of information is essential for engaged & responsible citizenry. Only a free market of ideas will lead to the truth," he said.
A few weeks ago, charges were dropped against ESAT and OMN.
Mr Abiy has also announced the part-privatisation of state-owned enterprises, is attempting to stabilise Ethiopia's rocky relationship with neighbouring Eritrea, and ended a state of emergency put in place by the previous administration.