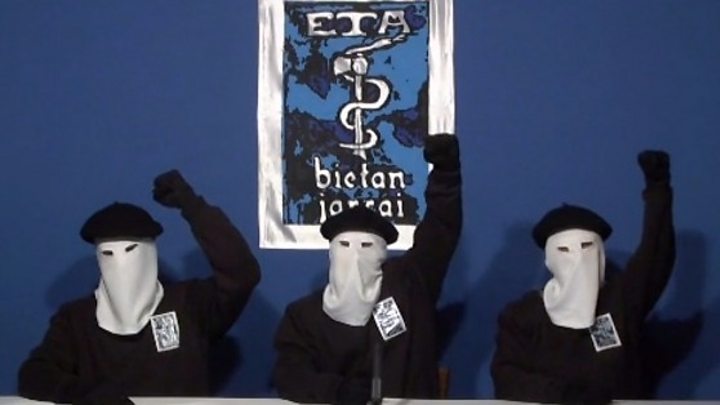 Spanish Prime Minister Mariano Rajoy says there will be no impunity for Eta, despite the separatist group's announcement that it is disbanding.
In an audio statement provided to the BBC, the Basque organisation said it had ceased all political activity.
It first announced it was disbanding in a letter to Basque organisations that was leaked on Wednesday.
Eta killed more than 800 people during its decades-long campaign of violence. It declared a ceasefire in 2011.
The audio statement made available to the BBC was delivered by Josu Ternera, the separatists' former military leader who is still on the run.
In what he describes as a "final statement to the Basque Country" he says the group's "journey has ended".
Eta says:
It has "completely dismantled all of its structures"
It will "no longer express political positions, promote initiatives or interact with other actors"
Former members "will continue the struggle for a reunited, independent, socialist, Basque-speaking and non patriarchal Basque Country"
Eta, which began its campaign in 1968, is considered a terrorist organisation by the European Union.
"No matter what Eta does, there is no room for impunity for its crimes," Mr Rajoy said in a speech in northern Spain.
"Eta can announce its disappearance but its crimes do not disappear nor do the efforts to pursue and punish them," he said.
Almost half the killings blamed on the organisation have still not been fully investigated. Half of those who died were members of the security forces, but dozens of politicians and business leaders were also killed.
Basque group Eta disbands after 50 years
Groups representing relatives of those who died have called for unresolved cases to be reopened.
There have also been allegations of thousands of cases of torture carried out by the security forces during the conflict.
Only a handful of wanted Eta members are believed still to be at large in Spain itself with several dozen more living outside the country.