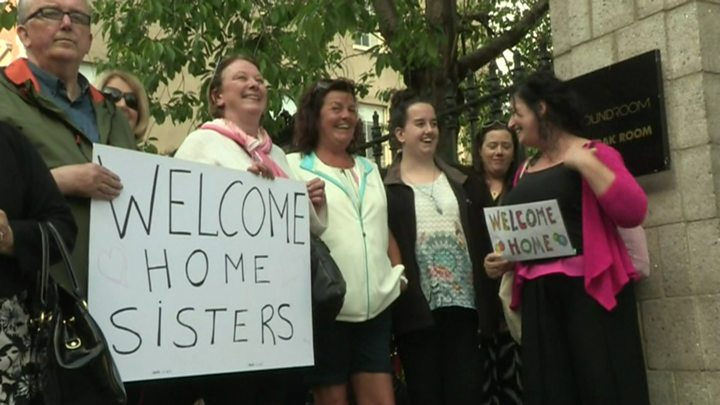 Irish President Michael D Higgins has apologised to thousands of women forced to work in the country's Magdalene Laundries.
Hundreds turned out in Dublin to welcome home the Magdalene survivors.
It was the first time they had gathered together at home, including those who emigrated to the UK, USA and Australia.
The laundries were Catholic-run workhouses where 10,000 women and girls were forced to do unpaid, manual labour between 1922 and 1996.
A 2013 report found the Irish state was directly involved in their confinement.
Arriving by Garda escort, the 220 women and their families were given a rapturous reception.
The atmosphere was emotional – it was a day many of the women never thought they would see.
---
What were the Magdalene laundries?
• Originally termed Magdalene Asylums, the first in Ireland was opened in Dublin in 1765, for Protestant girls
• First Catholic home was founded in Cork in 1809
• Envisaged as short-term refuges for "fallen women" they became long-term institutions and penitents were required to work, mostly in laundries on the premises
• They extended to take in unmarried mothers, women with learning difficulties and girls who had been abused
• Between 1922 and 1996 there were 10 such laundries in the Republic of Ireland
• The women toiled behind locked doors unable to leave after being admitted and while the laundries were paid, they received no wages
• The last Magdalene asylum in Ireland closed in Waterford in 1996
• The congregations that ran them were the Sisters of Our Lady of Charity, the Congregation of the Sisters of Mercy, the Religious Sisters of Charity and the Sisters of the Good Shepherd
---
Earlier on Tuesday, the women attended a reception hosted by President Michael D Higgins.
He apologised to the women saying they had been "failed by the state".
"A combination of stigma, shame and an unreceptive society condemned so many women to concealing their experiences, their trauma, their hurt," President Higgins said.
"In recent years the silence has been broken and you all have helped to let the light into some very dark corners of our shared past."
Theresa Ryan spent her childhood in the Good Sheppard in Limerick.
"I was three or four when they took me," she told BBC News NI.
"They changed my name, they changed my birthday, my whole childhood was gone."
Reflecting on the welcome, she said it was bittersweet.
"I'm excited but sad at the same time."
'Never Again'
Gabrielle O'Gorman has been living in England for almost 50 years.
She was placed in a Magdalene Laundry when she was 17 years old.
"Today has been wonderful, really amazing.
"People believe us now. They never did.
"Now it's there, it's in the history books, and I'm thrilled about that.
"I hope it will never happen again," she added.
'It was like prison'
Mairie O'Conolough spent five years in a Magdalene Laundry.
She said while it's difficult to forgive the people that put her there, seeing the support from the well-wishers was "wonderful".
"It was like prison.
"I hope no young child, girl, or baby will ever go through what we went through."
The reception in Dublin city centre was organised by the group Dublin Honours Magdalenes.
The gathering fulfils two key aspects of the Magdalene Restorative Justice Scheme, which is to bring together women who spent time in the institutions and also to gather views on how the Magdalene Laundries should be remembered by future generations.
In 2013, then Taoiseach (prime minister) Enda Kenny apologised to the women on behalf of the state.