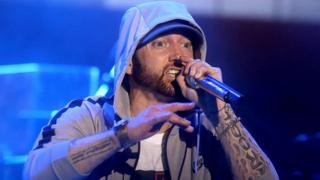 Eminem caused panic among some fans at the Bonnaroo music festival when a sound effect which sounded like gunfire was used at the end of one song.
Concertgoers screamed and ducked as a number of loud blasts rang out during the star's performance of Kill You.
Speaking afterwards, some fans branded Eminem's performance on Saturday as irresponsible, given the recent spate of fatal shootings in the US.
However, a representative for the star denied he had used gunshot effects.
"The effect used by Eminem in his set at Bonnaroo was a pyrotechnic concussion which creates a loud boom," the spokesperson said in a statement.
"He has used this effect – as have hundreds of other artists – in his live show for over 10 years, including previous US festival dates, without complaint."
In one video of the set [NB: Language warning], a fan immediately dropped their phone upon hearing the sound effect, which was accompanied by a bright flash from the stage.
Another concertgoer at the event in Tennessee said they had been forced to leave the show because of the "panic".
"Being at a festival/concert in these current times brings new concerns & fears," wrote Cristi Williams on Twitter.
"Had to leave Eminem set after 3rd gunshot at @Bonnaroo cuz panic was setting in my section (front pit). Extremely realistic & scary! Would have been good to have a warning before show."
Social media star Andrea Russett, who also attended the festival in Tennessee, said Eminem's set brought her to "the point of tears".
"To hear a gun shot sound effect and see the entire crowd drop to the floor out of instinct is not funny, cute, or amusing," she tweeted.
"This is the sad reality that we are living. This is not funny or even something to be joked about."
Others defended the 45-year-old, saying he had used gunshot sound effects throughout his career – including a performance at the Governor's Ball Music Festival in New York City last week.
"Eminem has done [this] for years," wrote a fan called Molly. "His music is about abuse, he grew up w[ith] gunshots… this is real life."
"The Kill you outro gunshot has been part of The Eminem live shows since 2001," said the fan account Mainly Eminem. "Why all of a sudden is Tennessee getting all cut up about it?"
But Ron Avi Astor, a professor at the University of Southern California, who has carried out research into mass shootings and violence, said Eminem and other artists might need to re-evaluate the way they present their performances.
"One of the issues that comes up is that, he's been doing it for many years and so have others, but it has different meaning now," Astor told Canada's CBC News.
"Artists need to ask what kind of responsibility they have when the norms of the culture change to the point that people are actually afraid of being shot."
He added: "They could warn the crowd or they could not do [the song]."
Eminem brings his tour to London's Twickenham Stadium in July.
Follow us on Facebook, on Twitter @BBCNewsEnts, or on Instagram at bbcnewsents. If you have a story suggestion email entertainment.news@bbc.co.uk.