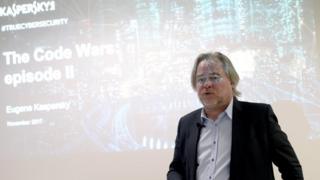 Cyber-security firm Kaspersky Lab has said it will relocate some of its operations from Moscow to Switzerland, after the US government and others accused it of spying on customers at the Russian state's demand.
The company said it had chosen Switzerland for its "policy of neutrality" and data protection laws.
Kaspersky makes anti-virus software with an estimated 400 million users.
It denies being linked to Russia's intelligence services.
Who has raised concerns?
Last year, the US Department of Homeland Security ordered government departments to stop using Kaspersky products, fearing federal data could be compromised.
A similar warning was issued in Britain.
And on Monday, the Dutch government said it was phasing out using Kaspersky anti-virus software, citing the risk of "digital espionage and sabotage".
"Russia has an active offensive cyber programme focusing on the Netherlands and vital Dutch interests," the country's Justice and Security ministry warned.
Intelligence officials are concerned that Moscow is trying to hack Dutch companies and manipulate elections there.
Why the move to Switzerland?
Kaspersky believes shifting servers to Zurich will help ease concerns over laws that let Russian security services monitor data transmissions inside the country, according to company documents seen by Reuters.
In a statement, the tech firm insisted it "has never helped, nor will help, any government in the world with its cyber espionage or offensive cyber efforts".
"Our new centre in Switzerland will strengthen the proven integrity of Kaspersky Lab's products, (and) significantly improve the resilience of our IT infrastructure to any trust risk – even theoretical ones," it said.
Kaspersky Lab's CEO and founder, Eugene Kaspersky, told Reuters that its data storage and processing facilities, and software assembly, would be moved to the new Swiss hub.
"The data of our customers from the US, Europe, Japan, Korea, Singapore and Australia will henceforth be stored and processed in Switzerland," he said.
"More countries will follow."