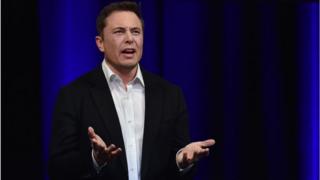 Technology entrepreneur Elon Musk made the unusual choice of vetoing "boring" questions during Tesla's latest earnings call.
Tesla posted a record quarterly loss of almost $710m (£523m) for the three months to March – more than double the same period last year.
Following a series of probing financial questions posed by analysts, Mr Musk decided to stop answering.
"Boring bonehead questions are not cool. Next," he said.
"We're going to go to YouTube. Sorry, these questions are so dry. They're killing me."
Instead, Mr Musk took questions from YouTube vlogger and journalist Galileo Russell who was listening to the call. Mr Russell hosts a YouTube talkshow called HyperChange TV, dedicated to the financial side of Silicon Valley technologies.
Mr Musk encouraged Mr Russell to keep asking questions, because they focused more on technology, rather than business matters.
Among the questions Mr Russell asked Mr Musk was whether a Reuters article stating that the Model Y would start production in November 2019 was true.
Mr Musk replied: "The Reuters article is based on nothing. I don't know where that came from.
"It's probably closer to 24 months from now. Early 2020 is more likely for Model Y."
Mr Russell also wanted to know why Tesla was opening up its Supercharger charging station technology and allowing other car companies to use the charging stations installed across the US too, rather than keeping it a secret. He used the metaphor of a "moat".
Mr Musk responded: "I think moats are lame.
"If your only defence against invading armies is a moat, you will not last long."