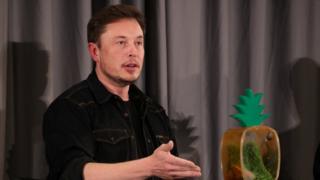 Tesla boss Elon Musk's has suggested via Twitter that he is "considering" taking the electric car firm private.
It was not clear how seriously to take the post, with Mr Musk previously penning impulsive or jokey tweets.
In his tweet, Mr Musk said he could buy outstanding shares in the firm for $420 each, around a fifth higher than the share's current price.
"Funding secured", the tweet added, offering no further details on where the funds would come from or when.
Tesla did not respond to a request for comment immediately.
Unlike publicly listed companies, private firms do not have to share details of their finances and operations. They are also shielded from the ups and downs of the stock market.
While Mr Musk has previously discussed the drawbacks of being a public company, he has also used his Twitter account in ways that surprised investors.
On April Fool's Day, Mr Musk, who owns almost 20% of the company, joked on Twitter about Tesla going bankrupt.
In a second tweet on Tuesday, Mr Musk said taking the company private would not lead to a single dominant shareholder. He would hold onto his shares, he added.
The tweets came after a report in the Financial Times that Saudi Arabia's sovereign wealth fund had taken a 3%-5% stake in Tesla, a holding worth at least $1.9bn.
The article said the state fund, overseen by the powerful crown prince Mohammed bin Salman, had been interested in buying newly issued shares.
The tweets have added to speculation about Tesla, which is spending heavily as it ramps up production of its latest car, the Model 3.
The firm reported a record loss in its most recent quarter, and some analysts say it will need to raise money in order to survive.
However, Mr Musk has said he has no plans to do so and promised that the firm will be profitable in the second half of the year, barring any unforeseen events.