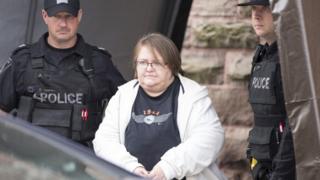 The handwritten confession of a Canadian killer nurse has been released as part of a public inquiry into long-term care homes for seniors.
The inquiry was launched by the province of Ontario following Elizabeth Wettlaufer's conviction on eight counts of first degree murder.
Wettlaufer was arrested in October 2016 for a string of deaths in two nursing homes spanning several years.
Her victims were between the ages of 75 and 96 and were killed over 2007-14.
She was caught confessing her crimes to doctors after checking herself in for emergency psychiatric care.
In her confession, scrawled over four pages in sloppy cursive handwriting, Wettlaufer describes feeling deep anger at her victims, whom she injected with fatal doses of insulin.
Her first victim was James Silcox, an 84-year-old patient who struggled with dementia. He was killed in September 2007.
"That evening I got the urge to overdose James," Wettlaufer wrote.
"At approximately 7:30 pm I decided to overdose him with insulin, hoping he would die."
She recalled feeling angry at the man who, she said, had sometimes acted inappropriately.
"Throughout the night, after I overdosed him, James called out 'I'm sorry' and 'I love you'," she wrote.
Wettlauffer was also convicted on four counts of attempted murder and two counts of aggravated assault.
She was sentenced to life in prison last year with no chance of parole for 25 years.
On the last page of her confession, Wettlauffer listed six other names with dates between 2007 and 2016 under the title "People who didn't die".
The letter is part of a collection of documents released in the inquiry, which will make recommendations on what failings led to Wettlauffer to be able to commit these crimes as a registered nurse, according to inquiry Commissioner Eileen Gillese.
Public hearings are expected to continue through 24 September.