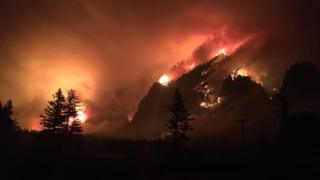 A judge has ordered a teenager to pay more than $36m (£27m) after he admitted starting a huge forest fire that raged for months in the US state of Oregon.
Hood River County Judge John Olson ruled the boy must also write apology notes to 152 people who were trapped on hiking trails by the conflagration.
The Eagle Creek fire burned for nearly three months in the scenic Columbia River Gorge, destroying several homes.
A lawyer for the 15-year-old called the amount "absurd" and "absolutely silly".
In February, the boy – who is not named in court documents – admitted to throwing a firework on 2 September 2017 into the tinder-dry Eagle Creek Canyon – about 50 miles (80km) from Portland.
The resulting inferno engulfed 48,000 acres and cost fire crews $18m to fight.
He pleaded guilty to eight counts of reckless burning of public and private property, two counts of depositing burning materials on forest land, as well criminal mischief and reckless endangerment of others.
In a ruling on Monday, the court said the boy must pay $36,618,330 to Eagle Creek victims, including the US Forest Service, the Oregon Department of Transportation, the Confederated Tribes of Warm Springs, the Columbia River Intertribal Fish Commission, a homeowner and others.
He was also ordered to serve five years of probation and perform 1,920 hours of community service for the US Forest Service.
The court acknowledged in its ruling that the teen will not be able to pay the full amount.
But Judge Olson cited "safety valves" in state law that allows juvenile offenders to stop payments after 10 years if they finish probation and do not commit any other crimes.
Jack Morris, a lawyer for the boy, argued last week that the penalty is excessive and urged the judge to impose a "reasonable and rational" amount, reports the Oregonian.
But Judge Olson wrote that the figure "is clearly proportionate to the offence because it does not exceed the financial damages caused by the youth".
He also directed the juvenile probation officers to help the boy create a payment schedule.
The teen's mother told the Oregonian newspaper in November that the fire was "a trauma" for her son.
During his plea hearing in February he begged the court's forgiveness, saying: "I know I will have to live with his bad decision for the rest of my life, but I have learned from this experience and will work hard to help rebuild the community in any way that I can.
"I now realise how important it is to think before acting because my actions can have serious consequences."