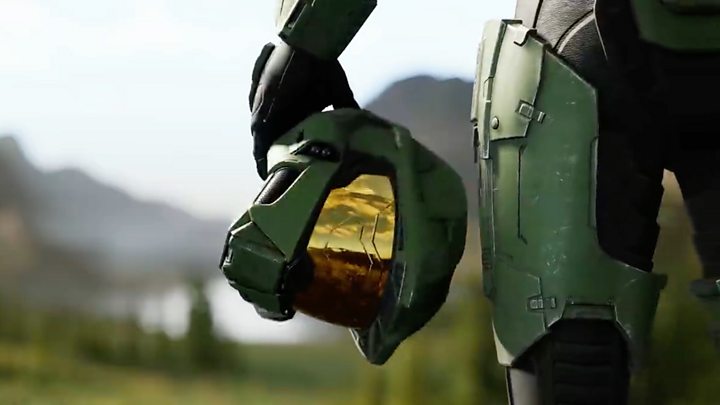 Microsoft has shared a first look at the next Halo video game at its E3 Xbox press conference.
But Halo Infinite – which will complete the second trilogy in the blockbuster series – was only briefly teased.
More time was given to other exclusives, including fresh Gears of War and Forza titles, as well as games in new franchises.
Microsoft also revealed it had bought several indie studios – including two of the UK's leading developers.
The firm had previously acknowledged that it needed to do more to build up its range of first-party content.
A total of 18 "console launch" exclusives were announced at the Los Angeles event.
"Microsoft gets a solid A," commented Michael Pachter, who follows the video games industry for Wedbush Securities.
"Nice to see them investing in more first-party gaming, and [the subscription service] Game Pass is looking like a better and better offer," added Stephen Totilo, the editor-in-chief of games news website Kotaku.
Microsoft's rivals Sony and Nintendo will preview their own titles later in the week.
Slower sales
Sales of the Xbox One lag far behind those of Sony's console, which has made it a challenge for Microsoft to convince third-party publishers to restrict games to its platforms.
At the end of March, 39.1 million Xbox Ones had been purchased worldwide – encompassing all versions of the games machine – according to market research firm IHS Markit. By contrast, 76.6 million units of the various PlayStation 4 consoles had been bought.
But Microsoft went into E3 with two advantages.
The Xbox One X – released last November – boasts more powerful graphics hardware than the PlayStation 4 Pro.
And Microsoft offers Xbox Game Pass – a Netflix-like subscription service that offers access to more than 100 titles including new first-party releases.
The firm revealed that the service would soon benefit from FastStart – a new facility that will use "machine learning techniques" to speed up game-loading times, although it did not explain how.
In addition, it revealed several third-party big-name releases from the past – including enhanced editions of Fallout 4 and Tom Clancy's The Division – were being added.
Hovercraft racing
The focus of E3, however, is new titles.
Microsoft kicked off its event with a trailer for the new Halo game, which Xbox chief Phil Spencer described as Master Chief's "greatest adventure yet".
But he declined to return to the game, leaving a fuller reveal to a later date.
Instead, other exclusives were given more time, including new footage from the highly-anticipated action-adventure sequel Crackdown 3.
The British-developed title had originally been scheduled for release in 2016 but has suffered multiple delays. It was confirmed that, as rumoured, the launch has been set back again, with the new sale date set as February 2019.
Another exclusive, Forza Horizon 4, is due for release this year.
This time round, the multiplayer driving game is being set on the UK's roads.
A demo shown on stage featured a hovercraft, in addition to the racing cars normally associated with the series.
It is set for a 2 October launch.
New content was also announced for the Xbox and Windows exclusive Sea of Thieves. The pirate-themed title has previously been described by Microsoft as its "fastest-selling first-party new intellectual property" of the current generation of hardware.
The DLC (downloadable content) pack Cursed Sails is due in July, and Forsaken Shores in September.
And the audience cheered the reveal of Gears 5 – the latest entry in Microsoft's third-person military sci-fi shooter Gears of War series.
The trailer appeared to place a female protagonist at its centre for the first time.
In addition, two spin-offs to the series are planned: a title for smartphones and a strategy game for PCs.
Studio takeovers
Mr Spencer addressed Xbox's need to secure further Xbox and Windows-only titles in the future, part way through his presentation.
"We know that exclusive games from our Microsoft Studios are what originally turned so many of us into Xbox fans," he declared.
"This is why we are increasing our investment in our existing franchises that you already love and this is why we are amplifying our investment in new worlds."
To help achieve this, he revealed that Microsoft had acquired two of the UK's leading indie studios:
Playground Games – the Leamington Spa studio responsible for the Forza Horizon racing series
Ninja Theory – the Cambridge-based developer of Devil May Cry and Hellblade: Senua's Sacrifice, which recently won five Bafta awards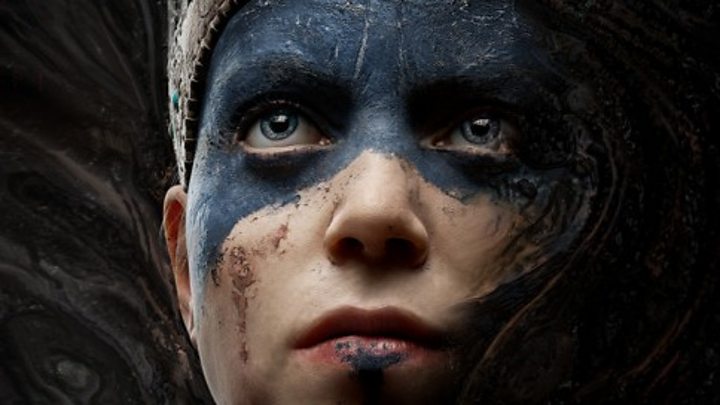 In addition, Mr Spencer revealed Microsoft had purchased Undead Labs – the US studio behind the State of Decay zombie games – and Canada's Compulsion Games, which is working on the crowdfunded retro-futuristic title We Happy Few.
The executive added that his firm had also created a new US-based studio, called The Initiative, which will be led by Darrell Gallagher, who previously oversaw 2013's Tomb Raider reboot.
"These five new teams will have the resources, the platform and creative independence to take bigger risks," Mr Spencer added.
One company-watcher commented that the moves effectively doubled the amount of games studios owned by the tech giant.
"It will take time to reap the rewards of this expansion strategy, but it puts Microsoft on a much stronger footing," said Piers Harding-Rolls from IHS.
The chief executive of the British games trade body Ukie was among others to welcome the news.
"Great to see some of the best British games studios featuring so highly in Microsoft's strategy for the future," tweeted Jo Twist.
Analysis:
By Dave Lee, North America technology reporter
I've heard bigger cheers at Xbox's E3 events in the past, but fans here mostly got what they came to see – a new Halo, and the continuation of the Gears of War franchise.
News of a female lead for Gears 5 seemed relatively well-received in the hall. Online it might, of course, be a different picture.
Microsoft is also putting its hands deep in its pockets to make sure its console is getting exclusive titles. Eighteen exclusives this year is decent – though much of what they showed won't be out until 2019.
More important longer-term is the announcement that it has acquired several smaller outfits.
We won't know how astute those deals will be for quite some time. But the purchase of Playground Games and Ninja Theory are an endorsement of the British gaming industry.
What struck me particularly about this year was how much time was spent telling gamers about all the different ways to pay.
In particular, the Game Pass scheme is becoming ever more important to Microsoft's business.
The momentum is clearly headed in the direction of all-you-can-play subscriptions being the primary way to pay. Good for variety, but perhaps bad for our attention spans.
Disney, division and the devil
Other major titles shown off at Microsoft's E3 show that were not billed as exclusives included:
Fallout 76 – Bethesda said its post-apocalyptic prequel would be "four times the size" of Fallout 4 and set in Virginia. Its launch date is 14 November
Tom Clancy's The Division 2 – Ubisoft's multiplayer role-playing sequel is set in Washington DC and is due to be released on 15 March 2019
Kingdom Hearts 3 – Square Enix's action-adventure game featuring Disney characters. It was revealed to include cartoon cast from the movies Frozen, Tangled and Wreck It Ralph
Devil May Cry 5 – Capcom's demon-slaying shooter is promised for Spring 2019
Jump Force – a new super hero-themed fighting game from Bandai Namco
The only other Xbox/Windows 10 exclusive announced was Ori and The Will Of The Wisps – a fantasy-animal platformer.
However, Microsoft said several other indie games, including the skateboarding title Session, would launch on the Xbox One before other consoles.