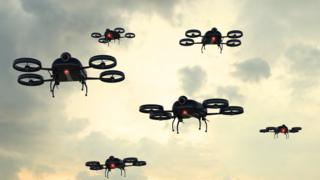 Criminals used drones to disrupt the monitoring of a hostage situation, says the FBI.
A top FBI official told a drone conference in Denver that criminals deliberately flew several small drones to block the rescue team's view of an unfolding situation.
The drones caused the FBI to lose sight of the attacker.
"We were then blind," Joseph Mazel, the FBI's operational technology law unit chief, told the AUVSI drone conference.
According to military news site Defense One, which attended the conference, the hostage situation occurred over the winter in the outskirts of a large US city.
The FBI had set up an elevated observation post to monitor the hostage situation, and suddenly drones appeared, carrying out a series of "high-speed low passes at the agents in the observation post to flush them [out]," Mr Mazel said.
Criminal drone use
Criminal use of drones is rising, and the most popular use for unmanned aerial vehicles is for the smuggling of smartphones and drugs into prisons, according to the National Police Chiefs' Council (NPCC).
However, the law enforcement body is concerned that criminals could also use drones in other ways.
"As part of any operational planning for public events, police are now considering the malicious use of drones and how they will counter that risk," an NPCC spokesman told the BBC.
"From news reports, practical experience and events within the prison service, quite clearly we're seeing an increasing risk in drone usage, and that's why as an organisation we're doing something about it. "
In 2015, it was reported that criminals were using drones to scope out potential burglary targets in Suffolk, and, in 2017, news site Vice made a video documentary about people who were using heat-seeking drones to steal marijuana from illegal farms hidden in residential properties.
And in the US, drones are increasingly being used by criminal enterprises.
"I talk to a lot of people in the drone industry, and we've heard of the Mexican drug cartels using drones for at least 10 years to smuggle drugs across the border," Jeffrey Antonelli, a lead attorney specialising in drone and BitTorrent litigation at Antonelli Law told the BBC.