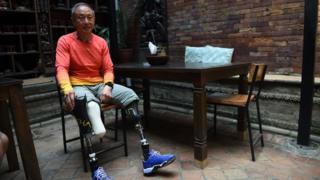 A Chinese climber who was crippled by frostbite on Everest more than 40 years ago has scaled the summit at the start of this year's climbing season.
In 1975, Xia Boyu lost his feet after giving his sleeping bag to a sick teammate during a high-altitude storm.
Now aged 69, he became the second double amputee to scale Everest – and the first ever from the Nepalese side.
Australian Steve Plain, meanwhile, set the record for the fastest climb of the highest mountains on seven continents.
Plain's achievement also features a story of overcoming physical challenge, coming four years after he broke his neck in a surfing accident.
'A challenge of fate'
The storm that caused Xia's frostbite struck in the "death zone" above 8,000m (26,200ft) and stranded his team for three nights, not far from the summit.
As a result, he needed to have his feet amputated. Then, in 1996, his legs were amputated above the knee as he battled lymphoma.
Despite his injuries, he never abandoned the notion of reaching the summit.
"Climbing Mount Everest is my dream," he told AFP news agency in April. "I have to realise it. It also represents a personal challenge, a challenge of fate."
After the disastrous 1975 climb, he made three more attempts, in 2014, 2015 and 2016. The 2016 attempt brought him close to the summit before a blizzard set in.
However, a ban on climbers like Xia almost ended his attempts.
Nepalese authorities moved last year to ban double amputees – along with blind and solo climbers – from attempting to reach the summit.
The authorities said the new rules were a safety measure but they were struck down by the courts earlier this year as discriminatory.
On Monday, supported by a team of Sherpa guides, Xia reached the summit in what the Himalayan Times says is the first successful double amputee climb from the Nepal side.
It also makes him only the second double-amputee to ever reach the summit of the world's highest mountain. Mark Inglis, of New Zealand, became the first when he reached the summit in 2006.
Inglis also lost his limbs to frostbite in a climbing accident, after spending two weeks in an ice cave sheltering from a mountain storm.
'Hangman's fracture'
Steve Plain also took advantage of the first day possible to reach the summit, setting his four-month speed record for the seven continents.
Both Plain and Xia's teams had already begun their climb when Sherpa guides affixed ropes to the summit, opening the final leg of the route for the climbing season.
That meant that Plain could reach his seventh mountain peak on his seventh continent in just 117 days – shaving nine days off the previous record.
The seven summits Mr Plain scaled are, in order of completion:
Vinson, Antarctica (4,892m/16,066ft)
Aconcagua, South America, (6,962m/22,840ft)
Kilimanjaro, Africa (5895m/19,340ft)
Carstensz Pyramid, Australasia (4884m/16,020ft)
Elbrus, Europe (5642m/18,510 ft)
Denali, North America (6,190m/20,310ft)
Everest, Asia (8,848m/29,030ft)
Plain was surfing in Western Australia in the summer of 2014 when a wave dumped him, head first, into the sand. He suffered a broken neck or "hangman's fracture" and said doctors had told him they were not sure if he would ever walk again.
"Three and a half years ago I was lying in hospital with a broken neck and at that time set myself the goal," he wrote on Facebook after reaching the summit.
Plain has also been using his record attempt to raise money for charities the Surf Life Saving Association and SpinalCure Australia – two groups he has close associations with after his own injuries.