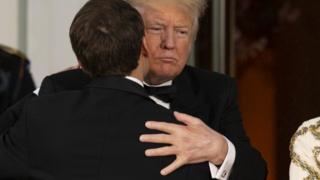 "Keep it short. Do not assume he knows the history of the country or its major points of contention. Compliment him on his Electoral College victory. Contrast him favourably with President Barack Obama. Do not get hung up on whatever was said during the campaign…"
In May last year, as Donald Trump prepared for his foreign trip, the New York Times reported on how foreign diplomats were trying to figure out how to approach a man many thought would never win office.
Since then, world leaders have refined dealing with Mr Trump and expanded that list.
Here's what works.
Speak his language
This week saw Israeli Prime Minister Benjamin Netanyahu announce what had been touted as a "significant development" on the nuclear deal between Iran and world powers. Proof, he said, that Iran had lied about its nuclear ambitions in the run-up to the accord.
Observers immediately said that Mr Netanyahu had not revealed anything new. But that may be beside the point.
Later in May, Mr Trump will have to decide whether to abandon the deal, and the presentation from Mr Netanyahu, a persistent critic of the agreement, seemed at least in part designed to influence a president who reportedly has a short attention span, little patience for reading and is a big fan of (some) television news.
"[Netanyahu] knows how to influence the president: He watches television," Suzanne Maloney, an Iran scholar at the Brookings Institution, told Vox. "This was broadcast live, he had the props, it seemed very Fox News-like in the sense of its production values."
Mr Trump has already given Mr Netanyahu a major victory by reversing decades of US policy by recognising Jerusalem as Israel's capital. Given that he has called the Iran deal "the worst ever", he could be about to hand Mr Netanyahu another win.
Build a rapport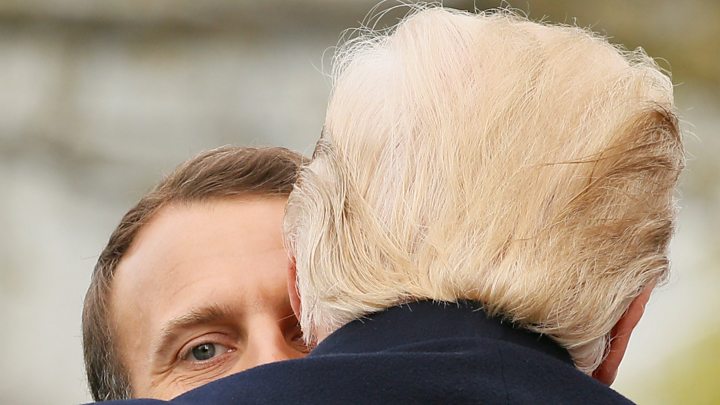 At first, it did not seem like Mr Trump and French President Emmanuel Macron would get on. Their debut meeting saw a prolonged, awkward handshake that left their knuckles whitened.
Since then it has been all air kisses and back slapping. Mr Trump was so wowed by a Bastille Day display he saw in July 2017 he ordered the US military to try to top it. When Mr Macron stood in the Oval Office last week, Mr Trump brushed his French counterpart's shoulder to "make him perfect".
Mr Macron's courting of Mr Trump has paid dividends. The BBC's Lucy Williamson says their rapport has put France ahead of Germany and the UK as America's primary contact.
What's more, the apparent closeness has paradoxically allowed Mr Macron to keep some distance.
While their friendliness was obvious during Mr Macron's state visit to the US, when he addressed Congress there were pointed words on Iran and climate change, with the French leader telling US politicians: "There is no planet B".
Like other world leaders, he has to think about how his closeness to a divisive US president will appear at home.
Make it business-like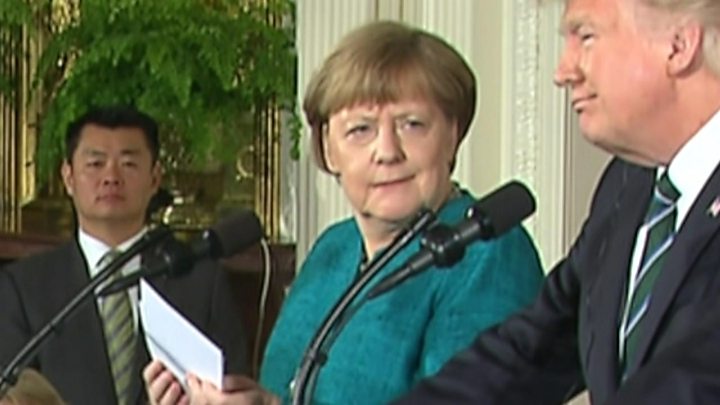 Germany's Chancellor Angela Merkel is sometimes unfavourably contrasted with Mr Macron in her dealings with Mr Trump. Their first meeting saw their own awkward handshake, or rather a non-handshake, while the German leader was noticeably unamused by one of Mr Trump's jokes.
Behind the scenes though, they are said to be in regular contact, and in public they have struck a professional relationship, if one far removed from the Trump-Macron bonhomie.
Asked about such meetings, Mrs Merkel has said they are "not about building a friendship. If that happens, good, but it's about representing the interests of your country, and to make your values clear".
Mrs Merkel is also not alone among world leaders in trying to forge a connection to Mr Trump through his family, inviting his daughter Ivanka to a panel in Berlin and defending her after she took her father's seat at a summit of world leaders.
Give him a win
What has already been a remarkable year for North Korean diplomacy could be capped by something that only recently seemed unthinkable – a first meeting between a US president and a leader of North Korea.
Mr Trump has taken credit for the international moves, telling a rally his "maximum pressure" approach was working.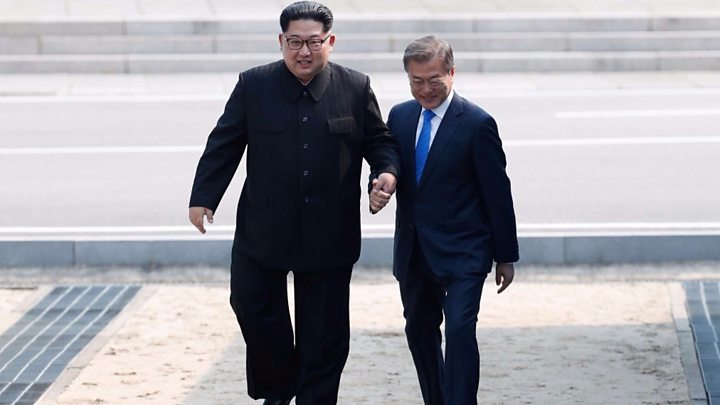 South Korea has also hailed Mr Trump's role, with President Moon Jae-in even suggesting he deserves a Nobel Peace Prize.
Prof Robert E Kelly at Busan University in South Korea, though, suggested that South Korea's praise for North Korea may be tactical. "The South Koreans were terrified last year that Trump was going to start a war. If this affirmation-craving president is a way to avoid a national catastrophe that is good politics," he tweeted.
Mr Moon is known to favour diplomacy with North Korea and has family links to the North, so it may be that in flattering the US president it is easier for him to pursue his own path.
"[Trump] is still a guy who focuses on wins," Peter Westmacott, a former British ambassador to the US, told the New York Times. "He likes to have wins for America and wins for himself from bilateral meetings."
Flatter him
When it comes to flattering the US president though, the reception he got when he visited Beijing last year will take some topping.
In what was called a "state-visit plus", Mr Trump was met at the airport with a red carpet, military band and flag-waving children. He and his wife Melania dined at the Forbidden City, for centuries the home of China's emperors.
In return China saw a different side to Mr Trump. On the campaign trail he accused China of "raping" the US with its trade polices, yet when he met business leaders he said he didn't blame China over trade imbalances.
In a break with previous presidents keen to stand up for press freedom, he joined Chinese leader Xi Jinping in refusing to take questions.
"The Chinese have figured out how to play Trump: flatter him," said Mike Chinoy, an expert on East Asia policy at the University of Southern California told Voice of America. "And there's nothing the Chinese do better than wow foreign diplomats."