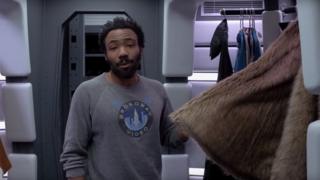 Donald Glover has given Star Wars fans an MTV Cribs-inspired look around the Millennium Falcon spaceship.
The actor plays the super-slick Lando Calrissian in the upcoming Han Solo film.
From a walk-in cape wardrobe to "where the magic happens", Donald says the iconic spaceship "has never looked better than when Lando had it".
The Falcon will eventually fall into the hands of Han Solo, as Lando pays off a debt.
Donald Glover steps out of character for the tour, showing off all of his favourite parts of the ship and displaying some of the humour that's made his show Atlanta so popular.
Fans have been impressed with Donald's Lando so far, with the character proving a firm fan favourite from the earliest trailers for Solo: A Star Wars Story.
They were also quick to notice the differences between a Lando-owned Falcon and a Han-owned Falcon.
So what were Donald's highlights?
"Overhead mood lighting"
Before we get to the bedroom Lando shows off his ship's living area, which includes things like "buttons that light up", a Space Sound System and, of course, patent leather. This is Lando we're talking about.
It also includes a Dejarik board – the game Chewbacca is seen playing on the Falcon with R2-D2 and C-3PO.
But the infamous smuggler is most proud of his Captain's Quarters – aka "where the magic happens".
His bedroom is home to a starlight wake-up light, which is bound to be on a few Christmas lists this year, as well as a "Kajak hair"-lined bed.
And apparently it's rare: "That's not easy to get," he says.
As well as overhead mood lighting, Lando's bed is made from patent leather.
A walk-in cape wardrobe
What to anyone else is a wardrobe full of capes, Lando calls a "walk-in cape armoire".
The original Lando is famous for his capes, and a man as fashionable as Donald wasn't about to give that up.
His collection features styles from around the Empire and capes for all occasions – from your sister's wedding to an intergalactic President's Day celebration.
Where the real magic happens
It wouldn't be a tour of a spaceship without visiting the cockpit.
Donald shows off his sliders and more "light-up buttons", as well as what everyone came for – the hyperdrive controls.
All in all it was an episode of Cribs up there with Mariah Carey's bath moment, 50 Cent's 19 bedrooms, and the Playboy Mansion's random collection of spider monkeys.
Solo: A Star Wars Story is in UK cinemas from 25 May.
Follow Newsbeat on Instagram, Facebook and Twitter.
Listen to Newsbeat live at 12:45 and 17:45 every weekday on BBC Radio 1 and 1Xtra – if you miss us you can listen back here.