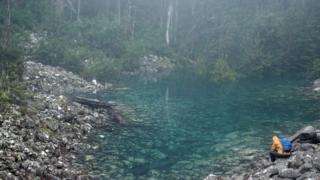 A lake known as the Disappearing Tarn has delighted hikers and photographers on a mountain in Australia after filling with a rare volume of water.
The normally dry lake on Mt Wellington in Tasmania is not easily seen. It was once described by a local newspaper as part of state "bushwalking folklore".
Heavy rain on Friday prompted it to swell with clear, blue-green water.
The site typically fills with water about once or twice a year following rain or snow, locals say.
"The pictures I've seen in the last two days show it at the fullest I've ever seen it," Wellington Park ranger Ben Masterman told the BBC.
"It's not a filter – it's actually that colour – that remarkable blue that becomes more intense and sapphire and more mesmerising the deeper the water gets."
He said that the lake forms in a "boulder field" about halfway up the 1,271m (4,200ft) mountain.
Irish photographer James Spencer trekked to the region on Saturday.
"It was about the size of a swimming pool when we were there – and a good 3-4 feet deep," he said.
"It's just such a tranquil feeling. It's like something you'd see in the Caribbean – this beautiful, clear, almost tropical water."
The lake has grown in popularity in recent times. Mr Spencer said about 30 other people were there when he visited, adding: "It's definitely not a secret any more".
Mr Masterman said rangers were aware of the growing interest, and warned visitors to adequately prepare themselves for a bush hike.
"It is a public place so we're not going to conceal it," said.
"[But] it is only a matter of time before someone has a go without taking the proper precautions."
He said the lake was likely to run dry again soon.
---
You might also like: