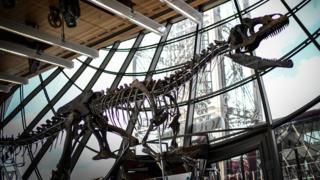 An almost complete dinosaur skeleton from 150 million years ago has been sold to a private buyer at an auction in Paris for €1.6m (£1.4m; $2m).
The nine-metre long specimen is thought to be a new species belonging to the theropod family – a group of dinosaurs that includes the Tyrannosaurus rex.
It was discovered on private land in the US state of Wyoming in 2013.
The auction had earlier been criticised by paleontologists who said science was losing out on valuable fossils.
However, French auction house Aguttes, which held the sale on the first floor of the Eiffel Tower on Monday, said that the dinosaur specimen was "destined for scientific study".
Aguttes said the successful buyer had earlier promised to "present it to the public", Reuters news agency reports.
"Everyone will be able to see it, it will soon be lent to a museum, it will be studied by scientists," it quoted the buyer as saying.
The auction house said that the anonymous new owner will be allowed to choose a name for the dinosaur – "as long as it's scientific, and subject to peer review".
It added that part of the profit from the sale will go to two charities fighting for the preservation of endangered species.
Aguttes also said that scientists brought in to examine the skeleton ahead of the sale were excited to find it had major anatomical differences from other dinosaurs of its type.
They reportedly noted it had more teeth, a more substantial pelvis, and differences in the skull and shoulder bones.
Eric Mickeler, one of the experts who examined the 8ft (2.5m) high specimen, said the job felt like the high point of his career.
Over the past few years, French auction houses have sold two Allosaurus skeletons, a Diplodocus, a Triceratops skull and a woolly mammoth.