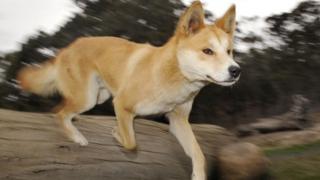 An Australian woman says she feared for her life while being attacked by two dingoes at an Outback mine.
Deb Rundle, 54, suffered wounds to her legs and other injuries during the mauling in Western Australia last week.
The mine worker had been on a lunch break when a dingo took her phone, prompting her to follow the animal.
Ms Rundle told local broadcaster Seven News that was attacked after stumbling upon other dingoes, leaving "blood everywhere on the ground".
"I looked down and I thought, 'oh my, am I going to die? Are they going to get me down?'" she said.
Ms Rundle said it took 10 minutes before co-workers came to her aid, and she was taken to hospital.
Dingo attacks are relatively rare in Australia. The animals are not typically aggressive but can pose a danger to humans, particularly around food and water.
The attack on Ms Rundle took place in an eating area at the Telfer mine in the nation's Pilbara region.
Newcrest Mining, which operates the site, has said it will conduct an investigation.
Local shire president Lynne Craigie said she had been "very surprised" by the attack.
"Certainly they [dingoes] are known to hang around mine sites… but more often than not they're quite timid," she told the Australian Broadcasting Corporation.
In 2012 a German man was attacked while camping on Queensland's Fraser Island – a popular tourist spot known for its dingo population.
The most famous case of a dingo attack involved nine-week-old Azaria Chamberlain, who disappeared from a campsite near Uluru in 1980.
More than three decades later, a coroner ruled that Azaria – whose body was never found – had been taken by a dingo or dingoes.