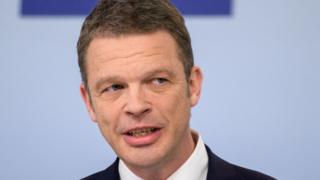 Deutsche Bank has said it will cut more than 7,000 jobs as Germany's biggest lender attempts to return to profit.
The bank said it would reduce global staffing levels from just over 97,000 to "well below 90,000".
Following a review of the business, the number of jobs in Deutsche's equities sales and trading business is being cut by a quarter.
The bank – which employs 8,500 people in the UK – did not say which countries would be affected by the job cuts.
Deutsche Bank employs about 66,000 people in Europe – including 42,000 in Germany, 21,000 in Asia and about 10,000 in North America.
The job cuts are the first major move by chief executive Christian Sewing, who took up the role last month after his predecessor, John Cryan, was sacked.
The search for his replacement is understood to have begun after the bank reported an annual loss of €500m (£438m) at the end of February.
That followed losses of €1.4bn in 2016, and €6.8bn in 2015 after restructuring and litigation costs.
Deutsche Bank had already flagged up that job cuts were on the way last month, with Mr Sewing saying at the time that they would be "painful but regrettably unavoidable".
On Thursday, Mr Sewing said: "We remain committed to our Corporate & Investment Bank and our international presence – we are unwavering in that.
"We are Europe's alternative in the international financing and capital markets business. However, we must concentrate on what we truly do well."