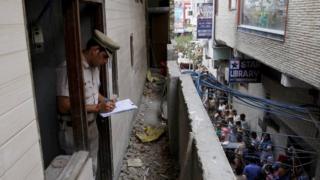 India police investigating the deaths of 11 family members found dead in their home in the capital Delhi say they have recovered CCTV footage which supports a theory of mass suicide.
The footage shows family members carrying stools and wires used in the hangings into the house, police said.
A post-mortem report confirmed that all 11 died due to hanging.
Police told the BBC that despite the footage, they they had not ruled out murder and are still investigating.
Many questions remain unanswered in the case, which has gripped the country.
For instance, all the dead were blindfolded and gagged, with their hands tied behind their backs. It is not clear how they would have been able to do this before killing themselves.
"We have to sift through CCTV footage for the last three months to get a better idea of what could have transpired," a police officer told BBC Hindi's Salman Ravi.
After the bodies were found, investigators said the case could be one of "mass suicide linked to spiritual and mystical practices" based on notes recovered from inside the house.
The 11 dead are members of the Bhatia family. They include 75-year-old Narayan Devi, her daughter, two sons, their wives and five grandchildren aged between 33 and 15.
Police have also found 11 diaries, which they believe belonged to Lalit Bhatia, who was Narayan Devi's youngest son. They suspect that Mr Bhatia believed he was "possessed by the spirit" of his father, who died in 2008.
"Notes found in one of the diaries hint that a strong belief that supernatural forces would intervene and save them could have motivated the family to hang themselves," an investigating officer said.
The family lived in a three-storey house in Burari, a largely middle-class area of North Delhi.
Neighbours say the family were active members of the community and describe them as "religious, happy and financially comfortable".
The oldest grandchild, Priyanka, who was 33, was among the dead. She got engaged two weeks ago and the family had thrown a large party to celebrate, inviting many people in the area.