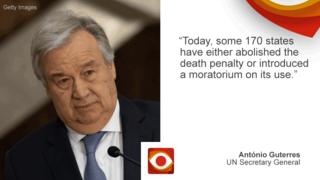 Claim: Some 170 States have either abolished the death penalty or introduced a moratorium on its use.
Verdict: According to Amnesty International in 2017, 142 countries had abolished the death penalty in law or practice.

The UN Secretary General António Guterres marked the World Day Against the Death Penalty by praising the efforts of countries to end the practice.
He said "170 States have either abolished the death penalty or introduced a moratorium on its use."
A moratorium is an agreement to suspend a policy or action.
So, is he right?
The UN Secretary General's report on the death penalty presented to the Human Rights Council in September this year says that "some 170 States have abolished or introduced a moratorium on the death penalty either in law or in practice, or have suspended executions for more than 10 years."
As the UN has 193 members, this implies that 23 states carried out at least one execution in the past decade.
The UN says these figures are compiled from information provided by member states as well as civil society.
However, Amnesty says that 142 countries have either abolished the death penalty in law or in practice and that in the past five years 33 countries have carried out at least one execution.
Amnesty collects its statistics using official figures, media reports and information passed on from individuals sentenced to death and their families and representatives.
Four countries were responsible for 84% of executions in 2017 (Saudi Arabia, Iraq, Pakistan and Iran). That doesn't include China, where the statistics are a state secret. Amnesty estimates that China carries out thousands of executions each year.
Methods of execution in 2017 were beheading, hanging, lethal injection and shooting.
The human rights organisation recorded at least 2,591 death sentences in 53 countries in 2017. But in some cases the death sentences will be commuted, where countries are reluctant to enforce the punishment.
According to Amnesty there are:
106 countries where use of the death penalty is not allowed by law
7 countries which permit the death penalty only for serious crimes in exceptional circumstances, such as those committed during times of war
29 countries which have death penalty laws but haven't executed anyone for at least 10 years, and a policy or more formal commitment not to execute
56 countries which retain death penalty laws and either carry out executions or the authorities have not made an official declaration not to execute
(Amnesty includes five non UN-member countries).
The Malaysian government followed the secretary general's comments with an announcement that it intends to abolish the death penalty.
About 1,200 people are thought to be on death row in Malaysia, where the punishment is given for offences including murder, drug trafficking and treason. The parliament will consider a bill at its next session.
If Malaysia does abolish the death penalty, it would follow Guinea and Mongolia, which ended the practice in 2017. The Gambian president Adama Barrow announced a suspension earlier this year. The Guardian reported that the death penalty was last used in Gambia in 2012.
In June, Burkina Faso's parliament adopted a new penal code which abolishes the death penalty. At the end of 2017 there were 20 countries which have abolished capital punishment in Sub-Saharan Africa, according to Amnesty.
In total 23 people were executed in the US last year. Washington state became the 20th to ban the death penalty in October 2018. The state's Supreme Court found that the punishment was applied in an "arbitrary and racially biased manner".
The number of countries which have formally abolished the death penalty has been steadily increasing, from 48 in 1991 to 106 in 2017. In recent years the number of countries which carry out executions has also gradually declined.
Countries that carried out executions between 2013 and 2017:
Afghanistan, Bahrain, Bangladesh, Belarus, Botswana, Chad, China, Egypt, Equatorial Guinea, India, Indonesia, Iran, Iraq, Japan, Jordan, Kuwait, Malaysia, Nigeria, North Korea, Oman, Pakistan, Palestine (State of), Saudi Arabia, Singapore, Somalia, South Sudan, Sudan, Taiwan, Thailand, United Arab Emirates, USA, Vietnam and Yemen.
The 21 countries that did not carry out an execution in those years despite not having abolished the death penalty:
Antigua and Barbuda, Bahamas, Barbados, Belize, Comoros, Cuba, Democratic Republic of the Congo, Dominica, Ethiopia, Gambia, Guyana, Jamaica, Lebanon, Lesotho, Qatar, Saint Kitts and Nevis, Saint Lucia, Saint Vincent and the Grenadines, Trinidad and Tobago, Uganda and Zimbabwe.