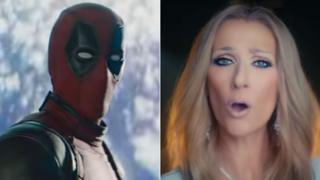 A new music video from the forthcoming Deadpool 2 has taken fans by surprise with an unlikely star – Celine Dion.
The singer performs Ashes, taken from the sequel's soundtrack – and she's certainly not doing things by halves.
Dion said fans would be "laughing their ashes off" (amazing) at the video.
And if the film is anything like this video, she's not far wrong. Deadpool [Ryan Reynolds], is seen wearing high heels and busting some (quite impressive) interpretive dance moves.
Slow motion footage from the new film plays as Celine Dion belts out the lyrics to her power ballad, and the video comes complete with a string quartet.
Once Celine has reached her dramatic vocal climax, this glorious exchange then takes place between her and the anti-superhero:
---
Deadpool: Celine, that was amazing. That was the most beautiful performance I've ever seen in my life
Celine: Thank you so much, thank you.
Deadpool: No, no, thank you. We need to do it again
Celine: OK. Why?
Deadpool: Well it's too good. This is Deadpool 2, not Titanic. You're at like an 11, we need to get you down to a five, five-and-a-half tops, just phone it in.
Celine: Listen, this thing (*points to self*) only goes to 11, so beat it Spider-Man.
Deadpool: God, I should've asked NSync.
---
It's fair to say the video has gone down well on social media:
"Celine Dion doing a song for Deadpool 2 is like the best April Fool come true ever," said The Sun's Daniel Sperling.
"Whatever the Deadpool marketing team makes, it isn't enough," said Alisha Grauso.
Joshua David Evans was also sold.
"Yes, yes… a million times yes," he wrote. "This made me laugh and also think, 'wait, that's a damn good song though'."
The Deadpool 2 soundtrack also features music from Skrillex and DJ Shadow – but also Cher and Dolly Parton. Possibly the most varied movie soundtrack ever?
---
Follow us on Facebook, on Twitter @BBCNewsEnts, or on Instagram at bbcnewsents. If you have a story suggestion email entertainment.news@bbc.co.uk.