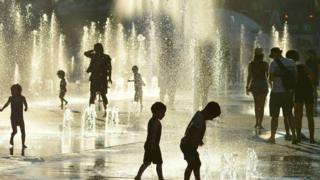 Thirty-three people have died in a heat wave that has baked the southern part of the Canadian province of Quebec, officials say.
The sweltering weather began last Friday with temperatures hitting 35C (95F) and high humidity.
The death toll has climbed every day this week, with 17 total deaths reported by Wednesday and 33 recorded by Thursday.
The heat wave is the worst the province has seen in decades.
Officials are urging people to drink plenty of water and stay in the shade.
"We're doing everything we can," said Montreal Mayor Valerie Plante.
The city has opened pools and air conditioned spaces to the public.
Mayor Plante said first responders have been going door-to-door, checking on some 15,000 vulnerable residents.
So far, 12 of the 33 deaths have been in Montreal, the most populous city in the province.
"I'm counting on Montrealers to knock on doors, maybe of a neighbour, just to find out if the person is OK. It's a team effort," said Mayor Plante.
Heat waves can be especially deadly for the very young, very old and infirm, said public health officials.
Montreal public health official Mylene Drouin told the CBC that the Montrealers who died had no air conditioning and prior health issues.
Average temperatures in Montreal are way above the usual 25C at this time of year.
The heat is supposed to break Friday, according to Environment Canada, with highs dropping to 24C.