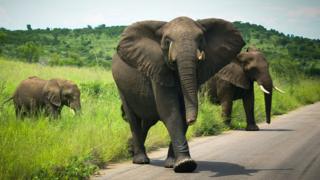 Diamond producer De Beers says it has started an operation to move 200 elephants from its game reserve in South Africa to Mozambique.
The elephant population at the private Venetia Limpopo Nature Reserve was too high, and risked causing extensive damage to the ecosystem, the firm said.
The relocation of the 200 animals would boost elephant numbers in neighbouring Mozambique, it added.
Elephants in Mozambique are threatened with extinction because of poaching.
Mozambique suffers from some of the highest rates of poaching for ivory.
More than half of its elephant population it thought to have been lost in the last five years because of poaching, according to campaign group Fauna and Flora International.
At one park, the Niassa National Reserve, poachers killed nearly 11,000 elephants since 2007, reducing their numbers to about 1,500.
De Beers, the world's leading diamond producer, said it would transport 60 elephants to the state-owned Zinave National Park in July and August.
The remaining 140 would be moved to parks, which had enough space to accommodate them, from 2019, it added in a statement.
De Beers would donate $500,000 (£380,000) over five years to the Peace Parks Foundation conservation group to combat poaching in Mozambique, the company said.
Its Venetia Limpopo Nature Reserve in South Africa could support around 60 elephants but now had 270 as a result of natural population growth, De Beers said.
There was "no greater symbol of Africa than the majestic elephant", and the relocation would help secure their future in Mozambique, the firm added.
It would also ensure that other species could flourish at the 32,000-hectare (80,000-acre) Venetia Limpopo Nature Reserve, it said.
The 408,000-hectare Zinave National Park had only about 60 elephants, and could accommodate far more, De Beers said.
The park's elephant population had been decimated during Mozambique's 16-year civil war, which ended in 1992.
Peace Parks Foundation CEO Werner Myburgh welcomed the relocation, saying it would "bring us one step closer to achieving our dream of restoring the landscape" at the Zinave National Park.