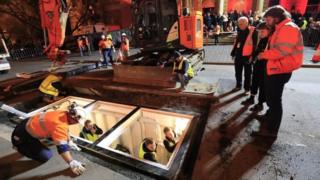 Once the focus of police concern, Tasmania's Dark Mofo festival remains renowned for confronting, headline-grabbing art. But it has also changed how the state presents itself to the world, writes Adam Morton in Hobart.
It is 21:00 on a Thursday, the winter freeze is setting in, and a 73-year-old-man is easing himself down a ladder into a hole in the middle of the main road in the centre of Hobart.
As Mike Parr settles into a small steel chamber, council workers fit the lid on the container and seal the road above him.
More than 1,000 people have turned out to watch a man be buried alive.
He'll stay down there for 72 hours, meditating, reading Robert Hughes' The Fatal Shore and being repeatedly run over until he is released on Sunday night. All in the name of art.
For the people of Hobart, this is no insignificant inconvenience.
The capital of the island state of Tasmania is carved up by a series of one-way streets, with the dug-up Macquarie Street the largest running west-to-east.
There are no ring roads to give travellers an easy bypass. But if talkback radio is a guide, the city's 225,000 residents are – with a couple of notable exceptions – mostly bemused or intrigued.
It may be they've just got used to these sort of eccentric distractions.
Banishing 'Slowbart'
Once derided as a conservative backwater – "Slowbart" – Hobart has undergone a cultural and economic transformation since the 2011 opening of the privately owned Museum of Old and New Art (Mona).
The A$85m (£48m; $63m) fortress is carved into a sandstone cliff on the bank of the River Derwent to showcase the A$100m-plus collection of professional gambler David Walsh.
It's Hobart's take on the "Bilbao effect" – the reinvigoration of how an out-of-the-way town is seen due to a bold piece of architecture and, in this case, what lives inside it.
In 2013, Mr Walsh expanded his imprint through the creation of Dark Mofo, a mid-winter festival. It started modestly, built around a public feast, light installation and nude swim at dawn on the year's shortest day.
From the outset it sparked controversy: police threatened to arrest those taking part until politicians – including then mayor Damon Thomas, who joined in the plunge – lent support.
Five years on, the festival has flourished. The bacchanalian feasting and naked aquatics are joined by international headliners in guitar-and-pop virtuoso St Vincent and avant-garde artist Laurie Anderson and outer-orbit performers such as Inuk throat-singing punk Tanya Tagaq.
Exhibitions dot the city. At one, the late Lou Reed's guitars buzz in continuous feedback. Festival goers are offered a river boat ride to hear stories of how their body will decay if they are lost at sea. Undeveloped industrial land becomes a nightlife and installation hub.
All up, more than 700 artists will perform at 36 venues over three weeks.
Nearly 50,000 tickets have been sold, more than half to tourists. Organisers expect total attendances of more than 500,000. A consultants' report in 2015 found the festival was then injecting A$50m. That would have at least doubled, if not tripled.
Embracing the cold
Beyond the numbers, Dark Mofo has helped transform understanding of what winter can mean in a cold southern climate. Lying more than 1,000km (620 miles) south of Sydney, Hobart has a cool, temperate climate, but is built as though it is somewhere more tropical.
Its housing stock is mostly poorly designed to cope with the cold. Until recently, winter was considered a time to be endured or avoided.
Festival creative director Leigh Carmichael says the initial idea was to turn this on its head by celebrating Australia's longest night. Themes of darkness, ancient ritual and the beauty of the night followed.
"Our calendar is filled with festivals and events that are kind of the wrong way around. Christmas is a winter solstice festival. Easter is a spring, new life festival. Halloween is an autumn festival. They kind of don't really make any sense here," he says.
"Dark Mofo is a winter solstice festival… In the southern hemisphere we have this unique opportunity to explore that theme with clear air and clear space."
Mr Carmichael says he didn't appreciate how much that would resonate. "The longest night and the darkness kind of seeps into who we are. I don't know whether we understand it, but we feel it."
Each Dark Mofo has created controversies. A 2017 performance by Austrian artist Hermann Nitsch involving a freshly slaughtered bull was met with protests. This year, Christian groups have objected to 20m-high inverted red crosses erected along the waterfront.
Some indigenous leaders questioned why they were not consulted about Parr's entombment given it was initially described as being linked to the near total destruction of Tasmania's Aboriginal population.
Organisers now stress Parr's performance is a comment on 20th Century totalitarianism in all forms, not colonial violence.
Few have commented on one of Mr Walsh's more blatant subversions – getting a sleepy city to adopt an abbreviated profanity as its calling card.
Economist and commentator Saul Eslake says the most important change has been in the way the state presents itself to the world.
"All too commonly, the opinion among mainlanders was a bit like the way Americans view West Virginia – beautiful country, but the people are sort of backwards and have sex with their relatives," he says.
"Now, Tasmania is attracting a more sophisticated type of tourist who wants to stay in better hotels and eat at a better type of restaurant."
It has spurred interest in what else the state has to offer, including its world-heritage listed natural beauty. In the five years after the museum opened the number of people visiting the state jumped nearly 50%.
"Mona and Dark Mofo aren't the only reason for that," Eslake says, "but they are a big part of it."