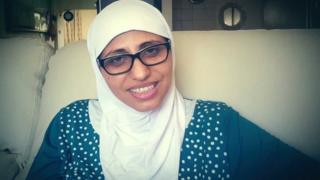 A court in Israel has convicted an Israeli Arab poet of inciting violence and supporting a terrorist organisation over comments she made on social media.
Dareen Tatour was arrested in 2015 in connection with three posts, including a video of her reading one of her poems – Resist, My People, Resist Them – set over footage of protesters.
She said her poem was misunderstood and that she did not call for violence.
PEN International, an association of writers, condemned the verdict.
It believes Tatour was "targeted for her poetry and peaceful activism".
"Dareen Tatour has been convicted for doing what writers do every day – we use our words to peacefully challenge injustice," said the group's president, Jennifer Clement. "PEN will continue to call for justice in this case."
Tatour, 36, was arrested in October 2015 and spent several months in prison before being placed under house arrest in January 2016.
She was initially confined to a flat in the city of Tel Aviv and her movements restricted because Israeli authorities deemed her a "threat to public safety".
She was later permitted to return to her family home in Reineh near Nazareth, but the house arrest continued in various forms until the end of her trial and she was not allowed to use mobile phones or access the internet.
Tatour was charged in connection with three posts that appeared at the start of a wave of deadly stabbing, shooting and car-ramming attacks on Israelis by Palestinians or Israeli Arabs.
The first was a video featuring her reciting a poem and footage appearing to show Palestinian protesters throwing stones at Israeli security forces.
The poem includes the lines: "Resist, my people, resist them. / Resist the settler's robbery / And follow the caravan of martyrs."
The indictment said the poem's "content, its exposure and the circumstances of its publication created a real possibility that acts of violence or terrorism will be committed".
But Tatour insisted the poem had been mistranslated and misinterpreted.
"They didn't understand my poem," Tatour told Reuters news agency last year. "There is no call for violence. There is a struggle, they cast it as violent."
Tatour was also convicted over another post that prosecutors said expressed support for the Palestinian militant group Islamic Jihad – which is designated a terrorist group by Israel, the US and UK – and for a new Palestinian "intifada", or uprising, against the Israeli occupation.
The third post was a photo of an Israeli Arab woman who was shot and wounded by Israeli police after she brandished a knife. It was captioned: "I am the next martyr."
Following her conviction, the Haaretz newspaper quoted Tatour as saying: "My trial ripped off the masks. "The whole world will hear my story. The whole world will hear what Israel's democracy is. A democracy for Jews only. Only Arabs go to jail."
"The court said I am convicted of terrorism. If that's my terrorism, I give the world a terrorism of love."