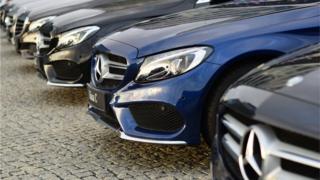 The German government has ordered car maker Daimler to recall 238,000 vehicles in Germany after they were found to be fitted with emissions-cheating software.
Across Europe a total of 774,000 diesel vehicles contain the defeat devices and Daimler said it would recall them all.
The diesel versions of the Mercedes C-Class, Vito and GLC models are the main ones affected, the ministry said.
Daimler has said it will remove the software, the ministry added.
The emissions scandal came to light in 2015 when VW admitted having fitted "cheat" devices in vehicles that made their engines appear less polluting than they actually were.
About eleven million cars worldwide were affected.
'Shutdown devices'
German transport minister Andreas Scheuer said the ministry and Daimler had "negotiated intensively for many hours" on Monday.
"The government is ordering the immediate official recall Germany-wide of 238,000 Daimler vehicles because of illegal shutdown devices.
"In total, in Europe, 774,000 vehicles are affected. As well as the Vito, this applies to the volume models GLC 220 Diesel and C 220 Diesel," he added.
"Furthermore, Daimler states that it will, at maximum speed and with co-operative transparency with the authorities, remove the applications in the engine control system which the government objects to."
The Transport Ministry only has authority to force the recall of vehicles within Germany.
Daimler refused to elaborate on where the other vehicles would be recalled.
It also said the legality of the software would still need to be clarified.
Evercore ISI analyst Arndt Ellinghorst said: "We don't see any evidence that Daimler was designing software to deliberately cheat on emission testing.
"Overall, this outcome should de-risk the stock."
Other car makers have been found to have fitted emissions cheating devices. BMW recalled 12,000 diesel cars over emissions cheating in February, while Porsche recalled 60,000 in May.